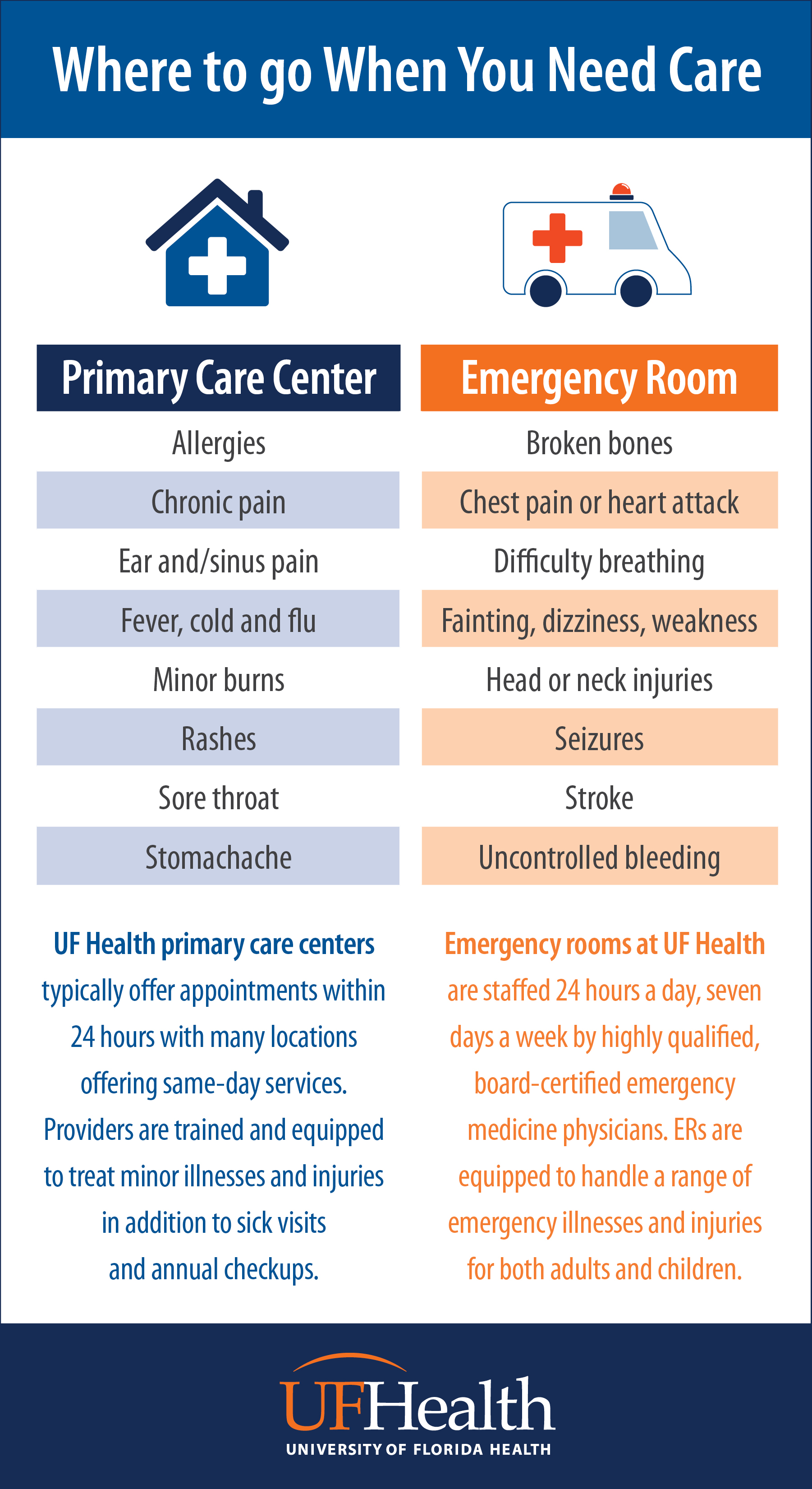 When an unexpected medical concern arises, your immediate thought may be to go to the emergency room. While this may be the best solution for broken bones or other acute injuries or illnesses, there are additional options when seeking medical care in Jacksonville, Florida.
The majority of illnesses can be seen within a primary care office because your primary care physician knows you and has a comprehensive record of your medical history. If you do not have severe symptoms and can wait until a scheduled appointment, this is a great place to start as these visits are usually the cheapest in most insurance plans.
When considering an emergency room visit, patients need to ask "Are my symptoms serious or possibly life-threatening?" If you are concerned that your symptoms are critical you should consider going to the ER. Also, if you feel like you may have a broken bone or need stitches you may want to consider an urgent care facility with imaging capabilities or an ER.
What's the difference between primary care, urgent care, and the emergency room?
Primary care offices often know you and your history well. Primary care physicians look at you from a comprehensive perspective and not just to treat the urgent issue at hand. They often have relationships with local specialists and hospitals if more advanced care is needed.
An urgent care center is usually open during expanded hours and weekends. They usually offer walk-in services if you feel you need to be seen in an expedited fashion. They are often cheaper than being evaluated and an emergency room. A drawback is they often do not have your records, and they have a limited history to draw from when formulating a treatment plan. Also, if you have a severe issue, they may need to transfer you to an emergency room.
A free-standing ER is one that is a separate building from a hospital but offers emergency room level service. If you need to be admitted or need more advanced care they can transfer you to a hospital. The cost for these is usually highest compared to a primary care or urgent care visit.
It is important to make this decision carefully. There is often a great difference in costs. Emergency rooms offer amazing acute critical care capabilities but there may be better health care options for your specific medical needs.
UF Health primary care centers often offer appointments within 24 hours for patients during every stage of life. If treatment from a medical specialist is required, UF Health patients have access to all of the benefits of an academic health center, including advanced medical treatment from UF cardiologists, neurologists, rheumatologists and orthopaedic surgeons. To learn more about services offered or to schedule an appointment, visit UFHealthJax.org/primary-care or call 904-244-0411.
Department:
Pediatrics – Jacksonville
Assistant Professor