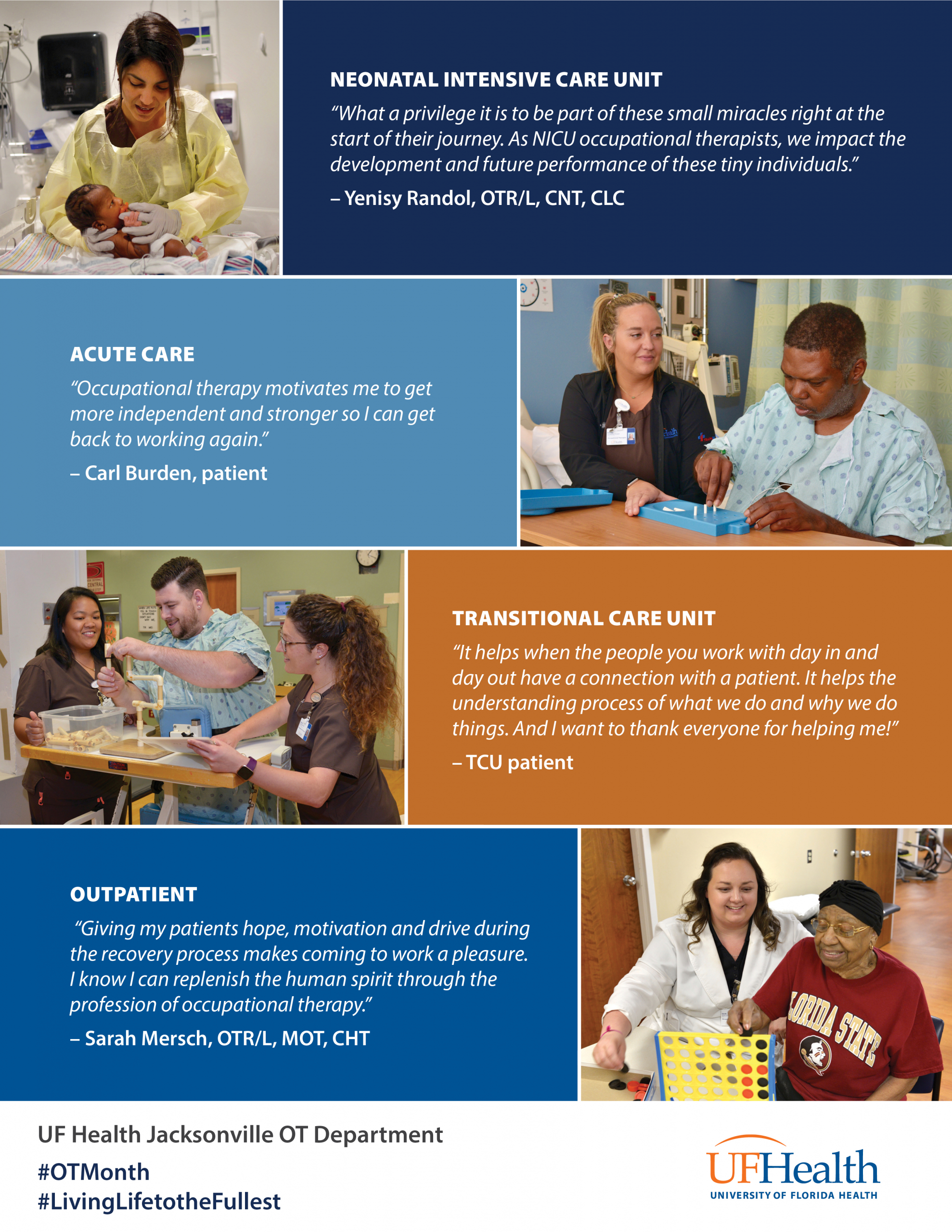 April is National Occupational Therapy month. This year's theme is "Living Life to the Fullest," which truly depicts the purpose of occupational therapy. This month offers a great opportunity to educate others about the benefits of occupational therapy, along with the variety of patients it can treat.
Occupational therapists and occupational therapy assistants are part of a vitally important profession, helping patients across the lifespan participate in the things they want and need to do through the therapeutic use of everyday activities. Occupational therapy consists of holistic and customized approaches to evaluations, interventions and outcomes. OTs can help a child with disabilities participate in school and social situations, assist a person recovering from injuries to regain skills or aid an older adult to stay as independent as possible. They offer specialized support and services to people of all ages on an as needed or ongoing basis.
Occupational therapy focuses on improving a person's ability to do things they want and need to do in life through the focus on daily activities (e.g. dressing, bathing, eating, toileting, grooming, homemaking, work, leisure). In the view of an OT, living is made up of all the various roles (occupations) in a person's life. Occupational therapy helps people to develop or recover function in these areas so they can be a parent, spouse, friend, tennis partner, student, cook or musician and truly live life to the fullest. Occupational therapy often examines the environment or task and fits it to the person to improve their ability to function.
Occupational therapists and occupational therapy assistants can work in a variety of units and broaden their expertise by supporting patients across different age groups with various conditions. UF Health Rehabilitation Services – Jacksonville has dedicated occupational therapists and occupational therapy assistants working in the Neonatal Intensive Care Unit, the Transitional Care Unit, acute care settings and in outpatient units in the hospital.
Visit ufhealthjax.org/rehabilitation-services/ to learn more about therapy services offered at UF Health Jacksonville.