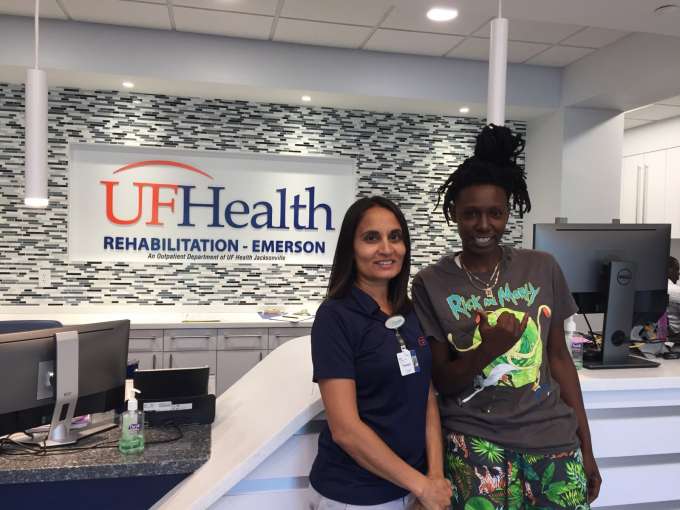 Hand Therapy Week celebrates how crucial occupational therapists are in helping patients overcome obstacles from injuries. Hand therapy helps patients enjoy everyday life and return to work successfully. The progress Shamori White, a patient at UF Health Rehabilitation – Emerson, has experienced is just one example of the importance of hand therapy.
On April 4, White sustained flexor tendon, artery and nerve injuries due to a laceration from glass. Nisha Patel, her hand therapist, has been treating and supporting her since then.
"Injuries to flexor tendons of the hand require a great deal of medical care and management," Patel said.
She highly recommends surgical repair by a hand surgeon and postsurgical rehabilitation with a certified hand therapist. This is because of the high tendency for adhesion and scarring of tissues, as well as loss of tendon strength. In addition, consistent hand therapy is vital to prevent loss of hand function and strength.
Due to the tendon injury, White couldn't use her right hand. She began postoperative therapy within her first week after being injured, not knowing if she would ever be able to use her hand again or move any of her fingers. However, Patel has since helped White regain strength and restore dignity — just seven weeks after surgery.
"My biggest fear was thinking I wouldn't be able to return to work," White said. "This injury made me realize how important fingers really are!"
All UF Health Jacksonville outpatient rehab locations have certified hand therapists to assure maximum functional and occupational outcomes are achieved for all upper extremity diagnoses. Visit ufhealthjax.org/rehabilitation-services to learn more about the therapy services offered.
Interested in more Hand Therapy Week stories and information? Follow along on Twitter by searching the hashtag #HTW2019 or visiting the American Society of Hand Therapists' Facebook Page.