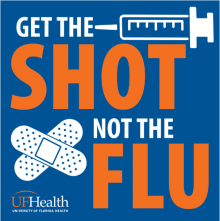 October is here, and with it comes falling leaves, pumpkin-flavored everything, the beginning of holiday festivities and…the flu. The Centers for Disease Control and Prevention (CDC) estimated that the 2017-2018 flu season caused almost 49 million illnesses and nearly 80,000 deaths in the U.S. The good news is there are several things you can do to lower your risk this season.
Get the shot, not the flu. The most important thing you can do is get your annual flu vaccine! Everyone over six months old should get the flu vaccine. It's especially important for people at high-risk like adults over 65, pregnant women, young children and those with other illnesses. Please consult your doctor if you have concerns before getting the flu vaccine. A quick reminder, after hundreds of millions of flu vaccine doses in the U.S. over the least 50 years, research confirms that the flu vaccine is very safe.
Keep your distance. Avoid close contact with others who are sick, as the flu spreads easily. If you're sick, try to stay away from others.
Take a day off. If you have the flu, stay home from work or school. The flu can't spread if those who are sick keep their distance from healthy people.
Cover your cough. If coughing or sneezing, use a tissue or upper sleeve, not your hands. Flu spreads by tiny respiratory droplets that need to be contained.
Wash your hands. Soap and water is the best method, but an alcohol-based hand sanitizer product will also work to kill
Continue to clean. Spring isn't the only time you should be cleaning. Be sure to routinely clean and disinfect surfaces!
Take precautions and ensure that the flu won't get you this season! For more information, please see the CDC website for preventive steps you can take.
The Infection Prevention and Control team at UF Health Jacksonville is dedicated to patient, employee and community health and was recently one of six international winners of the Heroes of Infection Prevention Award from APIC.
Department:
Quality Administration
Dir Accreditation & Infection