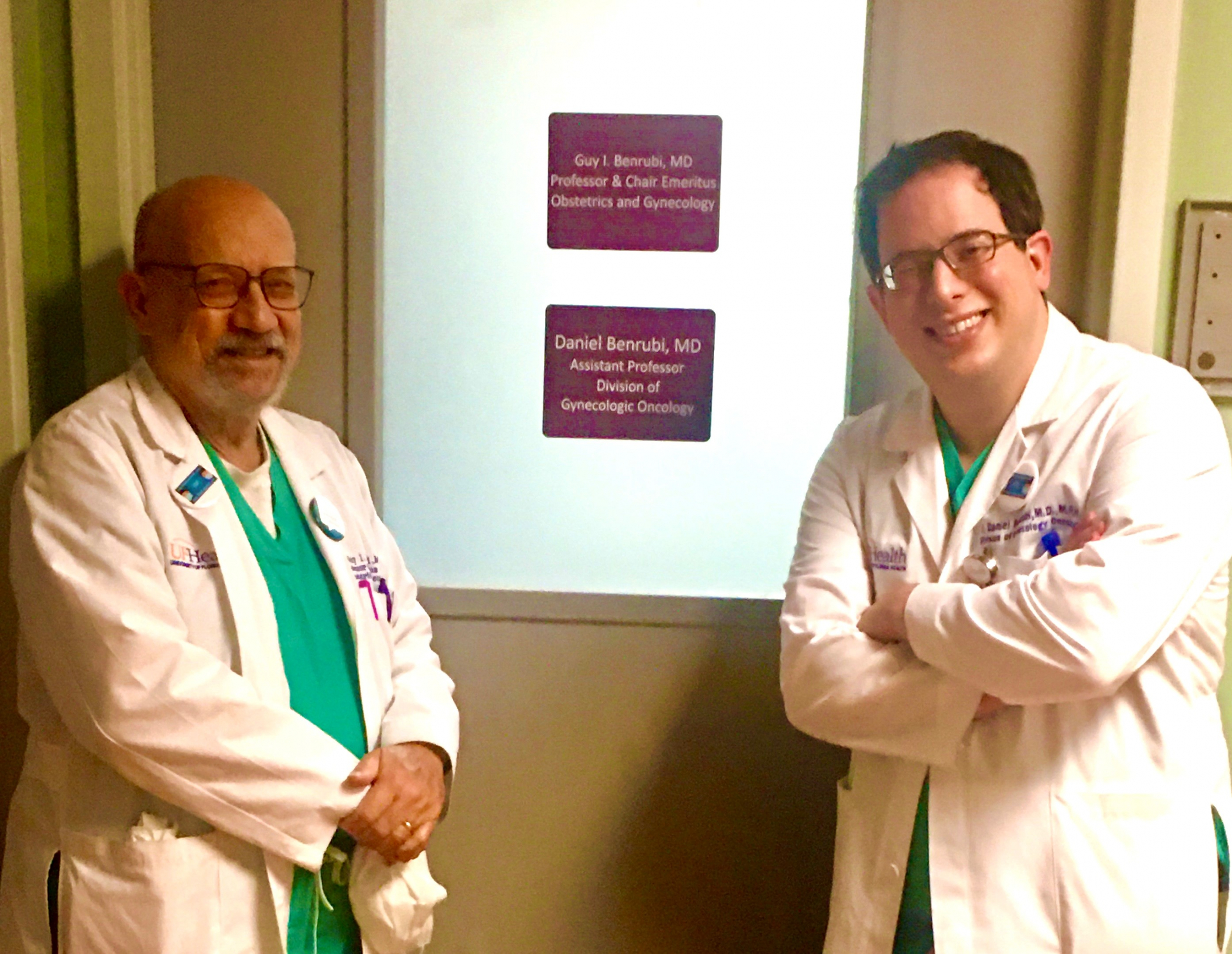 Father's Day gives us a special opportunity to recognize dads who've made an impact on our lives. One father-son physician duo at UF Health is closer than most. They are providers at UF Health Gynecologic Oncology – Jacksonville, and are inspired by one another every day.
We spent some time with gynecologic oncologist Daniel Benrubi, MD, to find out what led him to follow in the footsteps of his father, Guy Benrubi, MD, emeritus chair of obstetrics and gynecology at the University of Florida College of Medicine – Jacksonville.
What was it like to have a father in a medical profession?
DANIEL: I have admired my dad and the work he does for as long as I can remember. From an early age, I learned to feel comfortable in a hospital environment and enjoyed seeing him interact with patients and nursing staff, even though I wasn't sure what was happening most of the time.  As I got older, it was easy to see how fulfilling a career in academic gynecologic oncology could be. 
How did you introduce your son to academic medicine?
GUY: I always felt one of the greatest outcomes in my life would be if my son would follow me in my choice of profession. However, I wanted him to arrive at that decision on his own terms, and not through coercion. In some ways, he was destined to do so. He was born in the summer of 1984, while I was preparing for my oral exam from the OB-GYN board for certification as a gynecologic oncologist. I remember feeding him as an infant while I was studying from a textbook.
Later, when he was 4 years old, I would round on patients on the weekend and bring him along. He always enjoyed spending Saturday or Sunday mornings with dad at work. The patients enjoyed seeing him, and he was doted on by the nurses in the hospital. The head nurse on 3 South at the time even gave a small gift to Daniel each Saturday. By the time he was in high school, he had decided on a profession in medicine. 
How did Daniel decide on a career in gynecologic oncology?  
GUY: Daniel studied and completed a degree in biomedical engineering in undergraduate school at Columbia University, though he was officially pre-med. His senior project was to develop aortic stents, and his role model was a prominent vascular surgeon at Columbia.
During his first summer in medical school at the University of Florida College of Medicine in Gainesville, he gained valuable work experience in the research lab of a vascular surgeon, but decided he did not want to make vascular surgery his career. During that same first year, he learned more about vaginal deliveries, and by the time he finished his third-year clerkships, he had decided on a career in obstetrics and gynecology.
Throughout Daniel's medical school career, I bonded with his fellow classmates. At the end of his classmates' fourth year, they honored me by asking that I give their "Last Lecture" in med school.
DANIEL: My dad is fond of saying, "I teach young physicians how to take care of women with cancer. There is no more ethical profession in our society." It was a dream come true when I was offered the chance to return to the University of Florida College of Medicine – Jacksonville as an attending faculty member coming out of my gynecologic oncology fellowship. 
What is it like to work in the same department?
GUY: I am about to enter my 40th year at UF Health Jacksonville, and it has been a wonderful career. If I were to look back at the last 40 years, the fact that I have shared an office with my son and have operated with him in complicated gynecologic, oncologic and obstetric cases in the past year is the cherry on top of my career ice cream sundae.
DANIEL: Although I had the opportunity to learn from my dad when I was a medical student and a resident here previously, interacting with him on a regular basis as an attending is even more meaningful, and it is certainly helpful to have his advice when navigating complex cancer care.
In a fitting touch, we were given the same office to share when I started in September 2019, making it that much easier to continue learning from him. Happy Father's Day, Dad, from your eternally grateful son and student!
Find more heartwarming UF Health Father's Day stories here.