As part of UF Health Jacksonville's dedication to support our community, employees have an opportunity to become a mentor through the "Tipping the Scale" Mentoring Program in partnership with the Boys and Girls Club of Northeast Florida. Mentors are matched with local teens and meet on our campus twice a month for 90 minutes.
Because it's National Mentoring Month, we wanted to spotlight some of the incredible mentors who've dedicated their time to local teens and helped address academics, health, social enrichment, job skills training and future employment. They've shared what inspired them to join the mentoring program, what their experience has been like and a bit of their personal and professional backgrounds. A former mentee who is now a UF Health employee also contributed her thoughts.
Lenora Davis, revenue analyst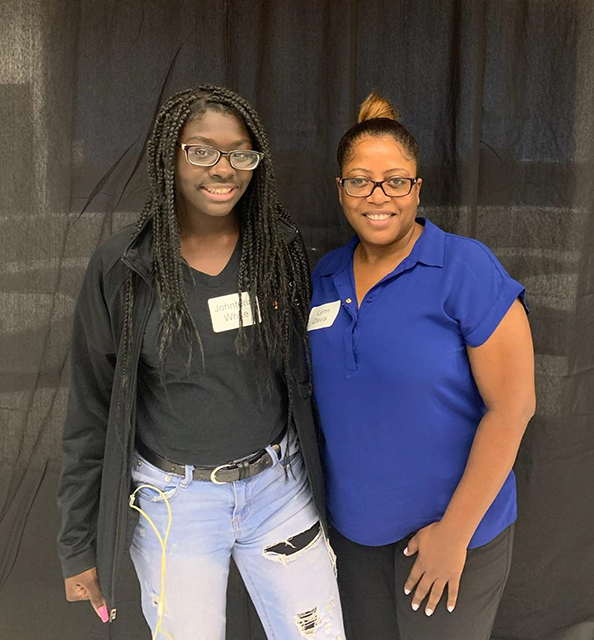 I enjoy working at UF Health and being a part of the community here. I decided to join Tipping the Scale in 2019 to give back to that community. Each day, working in the emergency department, you genuinely share a connection with patients, experiencing things that touch your soul.

Tipping the Scale allows me the opportunity to share strengths and weaknesses of those experiences, which also can be a motivator to youth who feel that adults can be clueless about their world. Sometimes, it can be the lifeline youth need to move forward in a world that is amplified by the sounds of popularity now or later as they navigate their way. I assist to drown out the noise, show them there is light at the end of the tunnel and that it's OK to make mistakes sometimes. Never fear mistakes because that's how you learn. I grew up in the same geographical areas that affect our youth today and if I can be the hand that assists anyone to be successful, I have accomplished my tasks by witnessing them accomplish theirs.

I'm originally a northern girl, but I graduated from high school here in Jacksonville in 1988 – specifically from William M. Raines Sr. High. I've worked in health care for more than 25 years and recently decided to continue my education by pursuing a bachelor's degree in health care administration. In my spare time, I love to cook and travel.
Natalie Spindle, education and training specialist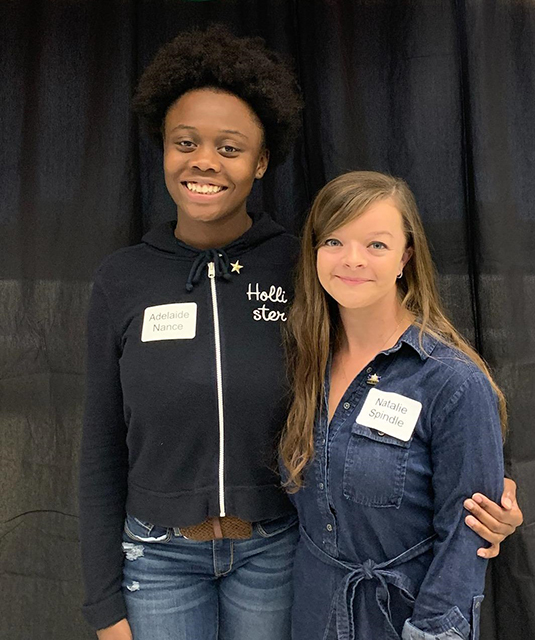 I joined Tipping the Scale after learning about the program through my co-worker, Jesef Williams. After hearing about his experience with his mentee, I felt it was the volunteer opportunity I had been looking for. I enjoy working with high school students because of my background in secondary education, and even though I chose a different career path, I still feel compelled to work with this age group in some capacity. I am a firm believer in investing in youth in order for our community to continue to grow positively. Mentoring programs are a proven protective factor for supporting healthy communities and youth. I may not be able to transform every high school student in Jacksonville, but I can do my part by mentoring one student at a time. I was a first-generation college student in my family, and I want to help support students who may be in the same boat to also achieve success.

In 2018, I was paired with my mentee, Adelaide, when she started her freshman year at Ribault High School, and she is now finishing up her junior year. I am excited about exploring the college application phase with her to ensure she has many opportunities for scholarships and support her as much as possible to start her bright future. My mentee has grown so much since we were first paired. I can see her confidence when we meet with new staff and am so proud of her for getting her first job at the end of 2020. I was honored to receive the Power of Mentoring Award from the program in 2020, and I look forward to more mentoring activities.

I am currently an education and training specialist in the division of emergency medicine research at the University of Florida College of Medicine – Jacksonville. I work with the Pain Assessment and Management Initiative, or PAMI, and related grant projects. I have worked at UF Health Jacksonville since 2018 and have enjoyed making connections with colleagues throughout the organization, mainly due to my involvement in Tipping the Scale and shadowing opportunities I have set up for my mentee. In addition to volunteer work, I also enjoy spending time outdoors and traveling with my fiancé and our dog.
Leon Cribb, patient financial services revenue cycle analyst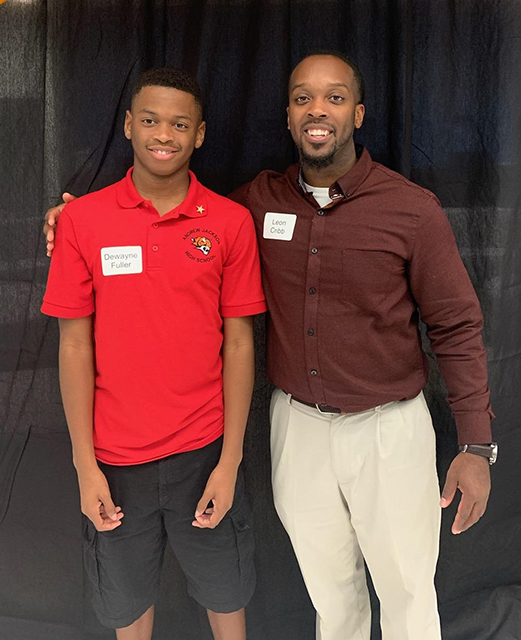 I was inspired to join Tipping the Scale because I wanted to give knowledge back to the community. There are many kids that do not have a role model or they don't think they can achieve greatness. But I like to share with them that no goal is too big. If you can dream it, you can achieve it. I also wanted to help serve as a support system for high school kids to continue their education.

I have been a mentor for three years. Dewayne is the first student I have mentored.

I have 11 years of experience in health care and have been with UF Health Jacksonville for six years. I'm currently a revenue cycle analyst in the Patient Financial Services department.

In my free time, I enjoy gaming on the PlayStation 4 and watching the Miami Dolphins play football.
Kenny Burns, application analyst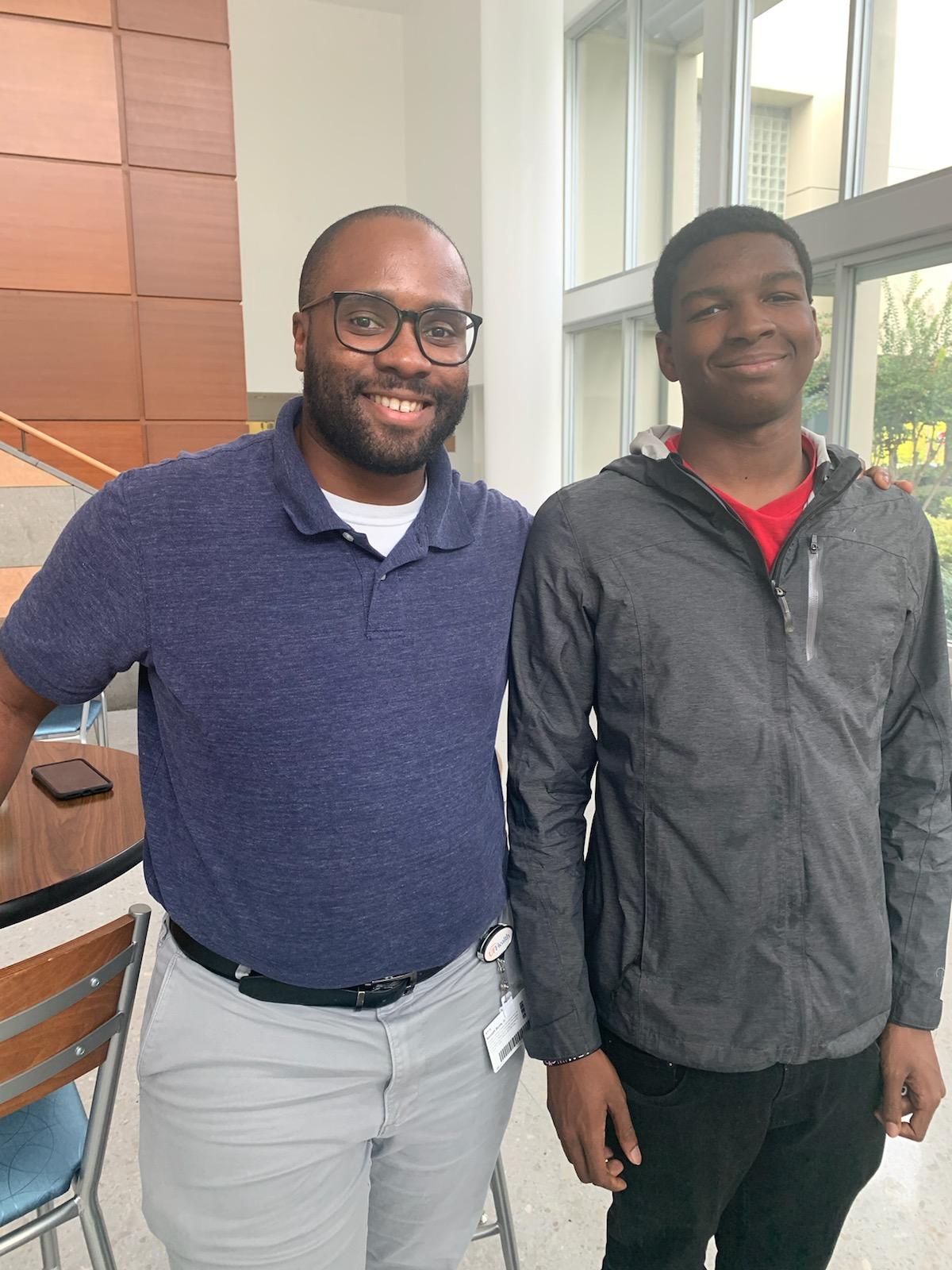 Tipping the Scale reminded me of a similar program I was involved in during college. It provided me the opportunity to connect with professionals/mentors in the career field that I was most interested in. The opportunity was a big help to finding my way to my current career. When the opportunity to join Tipping the Scale was offered, I was excited to become a mentor and help out in any way possible. I've been a mentor since 2018.

My background is in information technology support, and I am currently an application analyst. I love sports, and I enjoy talking about sports with my mentee, Diondre.
Benet Lewis, former mentee and current employee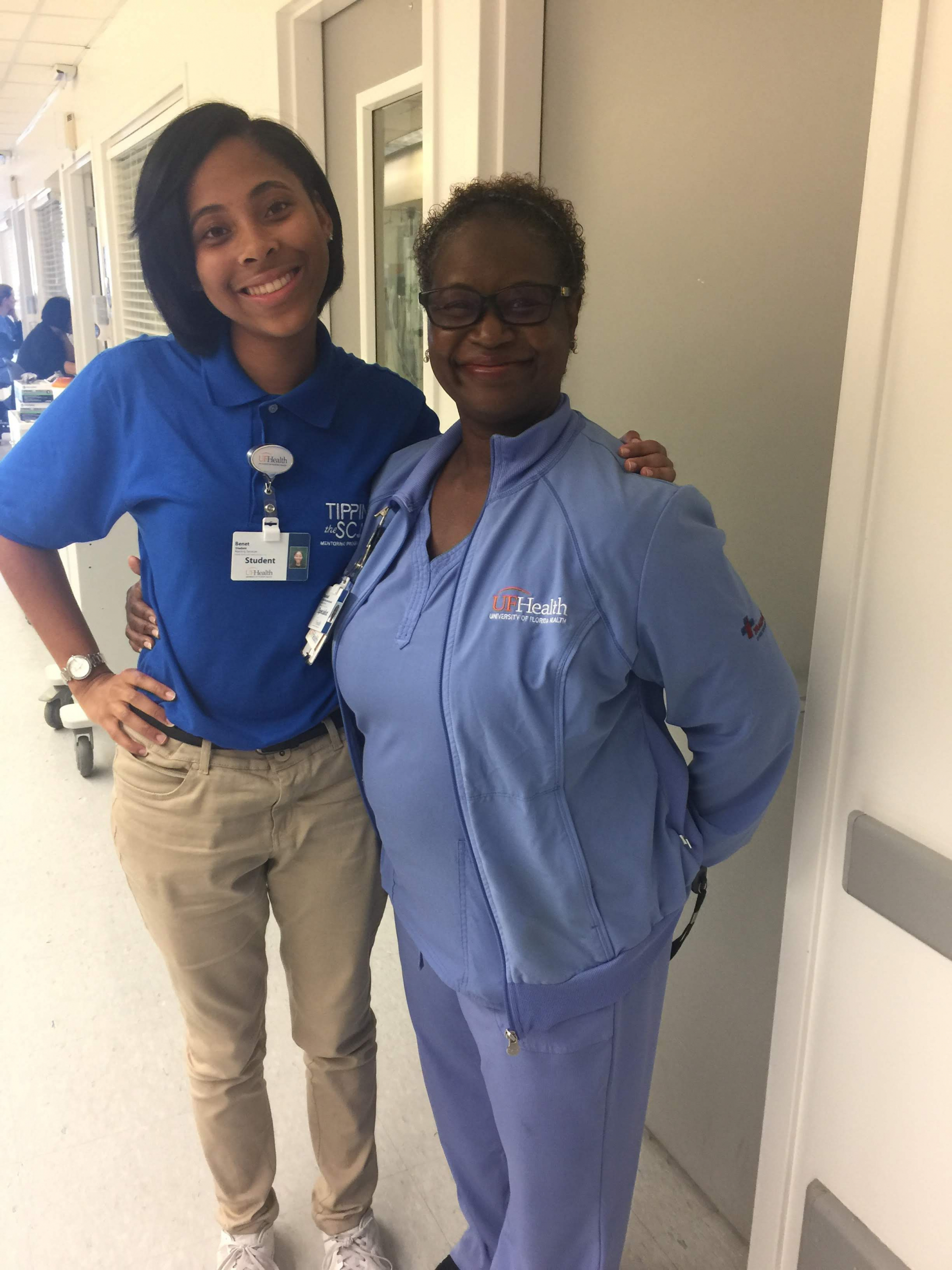 This photo was taken in 2017 on the last day of my internship at the hospital, and I was heading into my senior year of high school. Ms. Blondelle, my mentor, ensured that I was exposed to various departments of the hospital, so that I may better gauge what I wanted to study in college. One of my favorite memories with her is when she arranged for me to visit the Neonatal Intensive Care Unit, or NICU, and the Labor and Delivery unit, which was the moment I realized I wanted to become a nurse.

Throughout the Tipping the Scale Mentoring Program, Ms. Blondelle and I would meet on Tuesday afternoons at the hospital for our mentoring sessions. During our time spent together, she was extremely dedicated to helping me research various colleges, career pathways and scholarships. Because of her persistent presence in my life, I am now a junior nursing student at Jacksonville University. Ms. Blondelle has always welcomed me and created a safe environment during our mentoring sessions. I could never thank her enough for being there every step of the way since we met.

I am now a sitter in the float department at UF Health Jacksonville with hopes of graduating nursing school next fall and being employed as a nurse at UF Health.

I will forever be grateful for the impact Ms. Blondelle has made and continues to make in my life!
UF Health Jacksonville is proud to participate in the Tipping the Scale Mentoring Program in partnership with the Boys and Girls Club of Northeast Florida.
All photos were taken before the COVID-19 pandemic and current health protocols.