You Never Know What you're Missing Till It's Gone — a patient's Story
In honor of Occupational Therapy Month, we are recognizing the incredible occupational therapists at UF Health Jacksonville who serve patients with passion, purpose and possibility. One particular patient shares how occupational therapy helped him recover from an injury.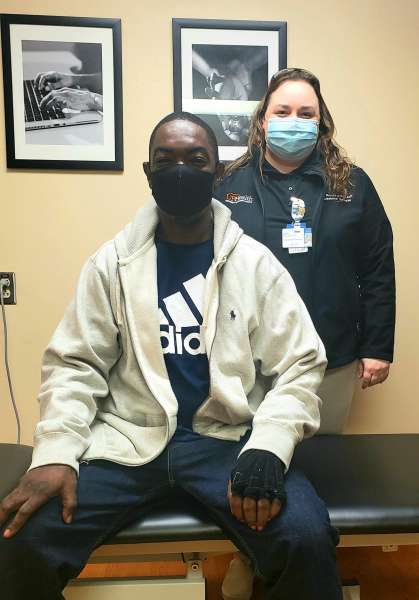 Jonathan Brown was the victim of an act of random violence on Nov. 3, 2020. The results of a gunshot wound to his left upper arm unfortunately left Brown with nerve damage limiting the use of his forearm, wrist and hand due to a severely fractured humerus, or upper arm bone.
On Dec. 21, 2020, Brown underwent surgery at UF Health Orthopaedic Surgery – Jacksonville, performed by Reneé Genova, MD to fixate his fracture. He was then referred to outpatient rehabilitation services at UF Health Rehabilitation to start his long journey to recovery. Brown's rehab continues to this day with Sarah Mersch, OTR/L, OTD, CHT, a board-certified hand therapist.
Mersch explained, "Occupational therapy's role in Mr. Brown's recovery process is to assess his occupational strengths, limitations and barriers and engage in meaningful activities driven by personal values and interests. This process is all encompassing and includes aspects of the mind, body and spirit."
Mersch developed a patient-centered individual plan of care for Brown. Its goals are to minimize disability and maximize occupational performance in daily tasks in ways that are purposeful and meaningful.
The residual nerve damage from Brown's injury severely affected his ability to use his left hand.
"Nerve injuries, when severe, can cause significant limitations to the use of our hands," Mersch stated. "People don't realize how integral and truly precious it is to be able to use your hands until you lose that ability."
Simple tasks such as feeding, dressing or bathing yourself can become extremely taxing for persons with upper limb nerve damage.
"In the case of Mr. Brown, he may be unable to turn his forearm up or extend his wrist and fingers for months to years while his nerve recovers," said Mersch. "He may require additional procedures and therapy to improve wrist and hand function."
Brown's physical limitations make it nearly impossible for him to reach out, grasp and pick up objects. Instead, his wrist and fingers droop or drop. In order to improve grasp and release hand function, which is needed in almost every aspect of self-care and daily life, Mersch selected and fitted Mr. Brown with a custom ordered supportive brace.
Mersch explained,"The brace allows for Mr. Brown's wrist to be positioned optimally in order to flex his fingers. It basically allows for a stronger and more efficient grip and release."
Brown expressed, "Since this unexpected trauma and loss of full use of my left arm, it has changed my life in all aspects. I felt depressed and saddened due to this trauma, but having Ms. Sarah as my OT, I felt fully supported. She has my back, not only in rehabbing my arm, but also in listening to my concerns. It was her coaching that made me feel more of myself again."
Although he has a long road ahead, Brown is now able to take on his recovery journey with more confidence and positivity than before.
Mersch emphasized, "From the perspective of an OT, the ability to give hope, purpose and quality of life back to patients is all in a day's work. The impact of the occupational therapy profession really changes the lives of those under their care. Though my interactions with patients are short, I know that what I do can have long-lasting, positive impacts on patients and their loved ones. This is the fulfillment I need in my career."
Visit UFHealthJax.org/rehabilitation-services to learn more about therapy services offered at UF Health Jacksonville.