We continue recognizing National Occupational Therapy Month by highlighting how occupational therapy benefits our smallest patients in the Neonatal Intensive Care Unit, or NICU.
Occupational therapists, or OTs, play the role of a developmental therapist in the NICU, addressing all areas of need in infants. OTs are in a unique position in the NICU, as what they do helps infants achieve developmental milestones later in life.
OTs work closely with parents and caregivers of infants, working on exercises like feeding techniques, infant massage, positioning, sensory stimulation and swaddled bathing. These exercises impact the infants' central nervous system development, growth, movement, weight gain and self-regulation. This ultimately improves an infants' overall outcome at discharge and throughout childhood and adulthood.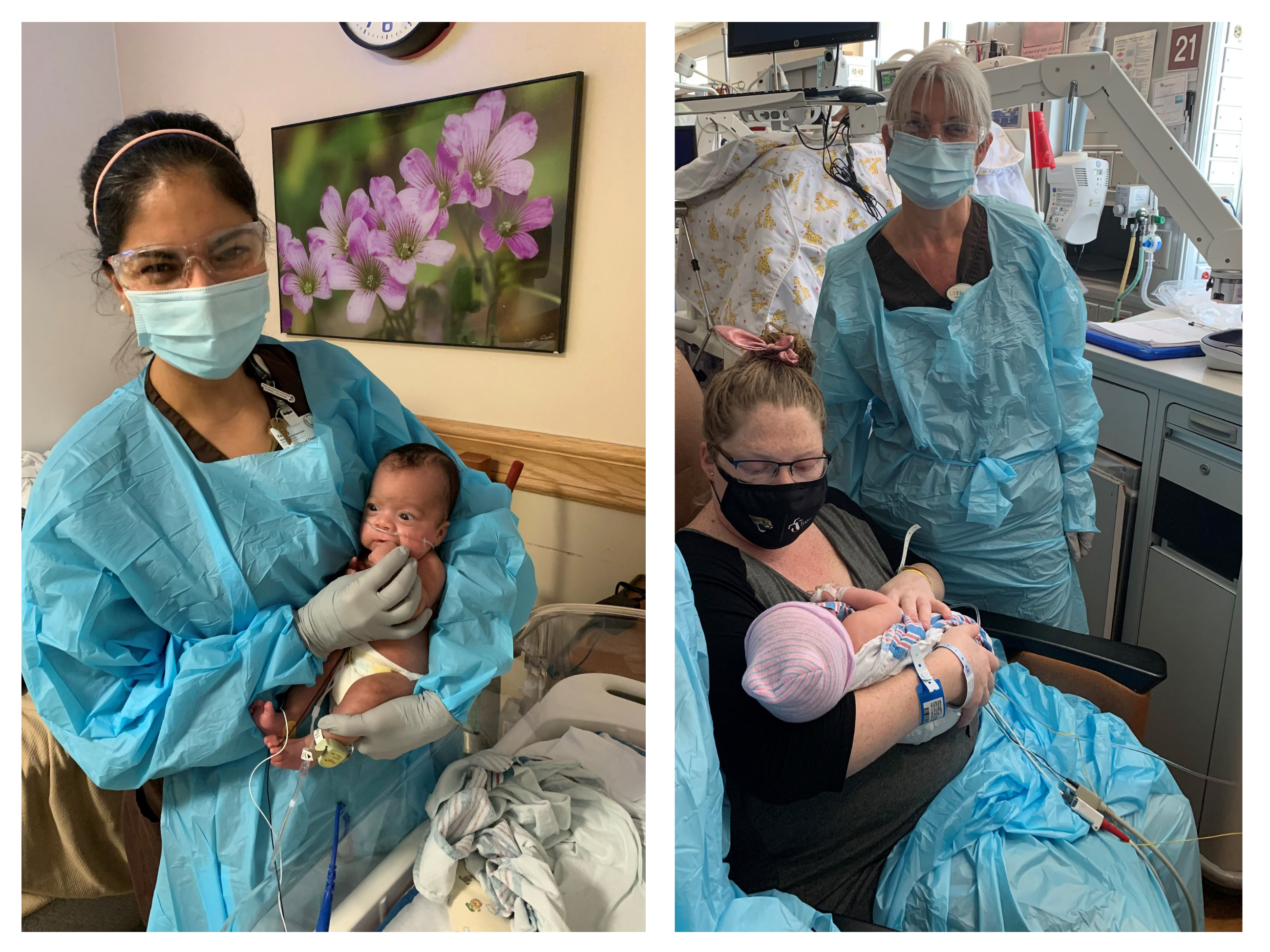 Meet our NICU occupational therapists
Yenisy Randol, MOT/L, CNT, CLC, and Holly Knight, OTR/L, CLC, CNT, both work in the NICU at UF Health Jacksonville.
Yenisy has seven years of occupational therapy experience and has been at UF Health for four years. She has a master's degree in occupational therapy and is certified as a neonatal therapist and lactation consultant and is certified in neonatal touch and massage as well. Her sister is also an OT, which inspired her to follow in her footsteps.
She loves caring for and supporting babies in the NICU, and her favorite therapy technique is swaddled bathing.
"We have the extraordinary opportunity to positively influence the life trajectory of these tiny humans right from the start," emphasized Yenisy. "What a privilege that is!"
Holly has 25 years of occupational therapy experience and has been at UF Health for 14 years. Holly is also certified as a neonatal therapist and a lactation consultant. She is the chair of the developmental committee in the NICU, and assists with program development and evidence-based practice. Her favorite therapy technique is splinting difficult joints.
"I love being creative and using activities in therapy to improve my patients' quality of life," said Holly. "It is a very versatile field in which you have the opportunity to work with many different populations of patients."
For more information about cue based feeding, a technique promoted by our OTs, check out this link.
Visit UFHealthJax.org/rehabilitation-services to learn more about occupational therapy and other services offered at UF Health.