We continue our recognition of National Occupational Therapy Month by sharing what a day in the life of an ICU occupational therapist is like.
Grace Valentin and Maria Matyjasik-Liggett are acute care ICU occupational therapists. Grace works at UF Health Jacksonville's main campus downtown, and Maria works at UF Health North. They primarily support patients who've experienced spinal cord, orthopedic or brain injuries. Patients who have had a stroke, open-heart surgery or abdominal surgery and those with neurological disorders or respiratory failure can also benefit from occupational therapy.
A typical day in the life of an acute care ICU occupational therapist consists of sessions with eight to 12 patients in an 8-hour shift. The daily routine consists of completing evaluations and treatment sessions, attending multi-disciplinary rounds, communicating with each patient's managing team and documenting after each session with a patient. Occupational therapists, or OTs, create a plan to help each patient increase independence with their activities of daily living.
Grace and Maria share what a typical day looks like:
7:30 a.m.: Arrive at work and review charts for the patients we are assigned. During this time, we are gathering information including what occurred with each patient, why they have been admitted and any imaging, lab results and physician notes.
8 a.m.: The first patient of the day is a 24-year-old who was in a motor vehicle accident. He has sustained a brain injury and a broken wrist. Our session will focus on cognitive strategies to recall the necessary items he would need for his morning grooming routine. He is also learning to do one-handed techniques, as he has a broken wrist which his fingers are casted in.
8:30 a.m.: Multidisciplinary rounds begin. Each patient is managed by disciplines including physicians, nurses, case managers, rehabilitation specialists, psychologists and dietitians. We meet and discuss the patient's progress with these other professionals to provide the best level of care possible for the patient.
9 a.m.: The next patient has been in the hospital for about one week. This patient is a 35-year-old who sustained a C6-C7 spinal cord injury after diving into a shallow pool. Our session is focused on modified self-feeding techniques. Considering his injury, he can only bend his elbows and extend his wrist. He has weak to no motor function in his hands and legs. We introduce him to a cuff that supports his wrist and holds his feeding utensil for him, so he is able to begin feeding himself.
9:30 a.m.: The first new evaluation of the day is of a 65-year-old woman who has had a stroke and is intubated. Our role is to assess everything to help develop a treatment plan for the patient and set realistic goals. The patient's upper extremity range of motion and strength is assessed first, and we notice she is experiencing significant right-sided weakness in her arm and leg. The patient's vision, sensation, coordination, proprioception, cognition, balance and how much assistance she requires for her self-care tasks is also assessed. We also take the time to educate this patient and her family how she will benefit from our other rehab services, including physical therapy and speech therapy to regain her independence.
10 a.m.: Complete documentation on the first three patients. This includes making functional goals for the new evaluations and documenting the treatment sessions.
10:30 a.m.: Our next patient is a 40-year-old woman who worked in a food packaging warehouse. In an unfortunate accident, she suffered a deep laceration on her forearm and had surgery to repair the tendons. We received an order from the hand surgeon to make a thermoplastic splint to place her wrist in a position for the tendons to heal. We use moldable material and fabricate a custom splint for this patient to wear.
11:15 a.m.: Our next patient had a fusion of his middle thoracic spine between his shoulder blades. UF Health Neurosurgery ordered this patient a back brace to wear whenever he is out of bed. Our session focuses on educating the patient how to put the brace on and take it off, while adhering to his spinal precautions, as well as practicing adaptive techniques for completing his daily activities.
12 p.m.: Lunch break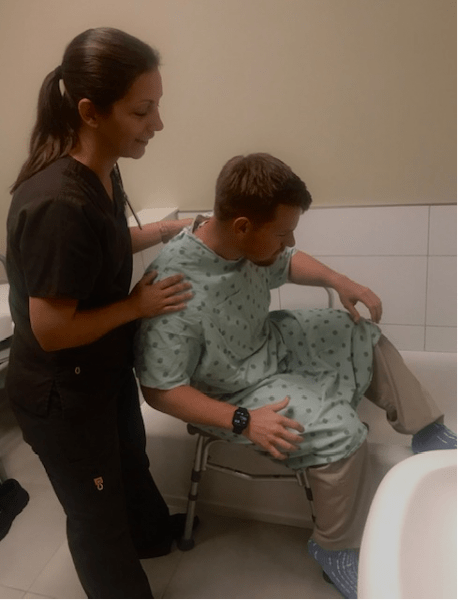 12:30 p.m.: Documentation and charting on the last two patients seen.
1:00 p.m.: The next patient is a 31-year-old man who was in a car accident and has fractures in his pelvis, right shinbone and left thigh bone. He underwent surgery at UF Health Orthopaedic Surgery – Jacksonville, where they placed plates and screws in his fractured areas. To allow the bones to heal, this patient is not allowed to bear weight through either of his legs for 8 to 12 weeks. Since this patient cannot walk, our session is focused on teaching him how to use his arms and scoot his hips from his bed into his wheelchair and from his wheelchair to a bedside commode.
2 p.m.: The next patient is a 71-year-old who just had their hip replaced due to arthritis and degeneration. Our session focuses on education on their hip precautions as well as adaptive techniques for lower body dressing and bathing, which include utilizing equipment such as a sock aide, reacher and a long-handled sponge.
2:45 p.m.: The last patient of the day is a 67-year-old man who is undergoing therapy for respiratory failure due to a chronic obstructive pulmonary disease, or COPD, exacerbation. Our treatment consists of educating the patient on energy conservation techniques to minimize fatigue and allow him to continue the independence of performing his daily activities. This includes taking breaks, pacing himself, spreading out activities during the day and sitting instead of standing when able.
3:15 p.m.: Complete documentation on the previous three patients.
4 p.m.: Our work day is over — time to go home!
Visit UFHealthJax.org/rehabilitation-services to learn more about occupational therapy and other services offered at UF Health.