We continue celebrating Occupational Therapy Month by featuring two therapists who chose to give back to their community by teaching at a local university.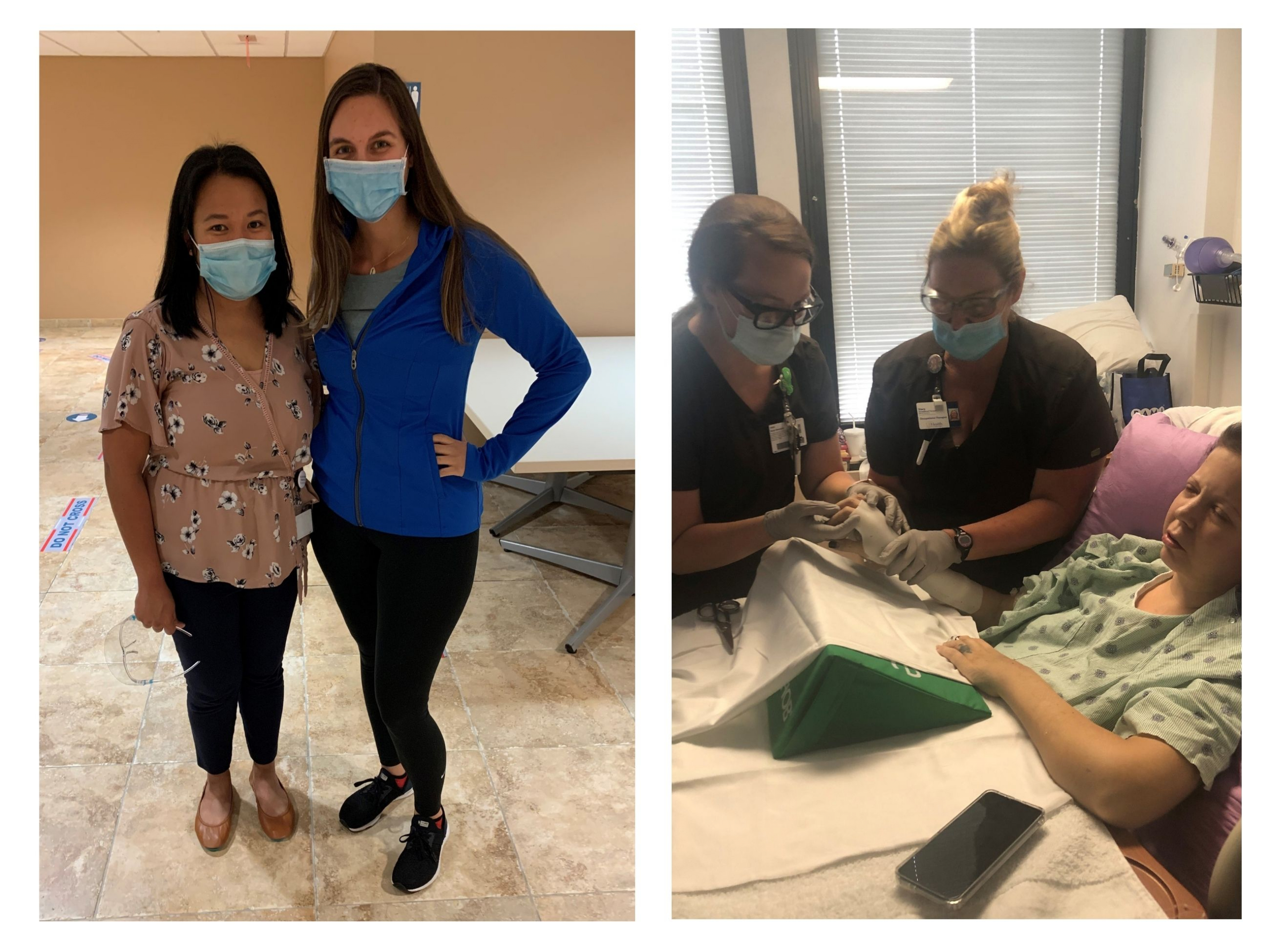 A path to teaching
About three years ago, Stacy Stockard and Sheena Estalilla were approached by the dean of occupational therapy at the University of St. Augustine for Health Sciences to become contributing faculty. This would be their first time teaching in a classroom, as they had only supervised occupational therapy, or OT, students in the hospital setting previously. All though educating graduate students in a university setting was initially outside their comfort zones, they both jumped at the opportunity to share their experiences with new OTs-to-be.
"Since we have more than 37 years of combined experience and are working at a Level I trauma center, Sheena and I have many tricks of the trade to share," said Stacy.
The students have been very eager to learn how all the theories and processes they learn in the classroom are carried out in an actual hospital or clinic setting. The students appreciate Stacy and Sheena sharing their experiences and absorbing as much knowledge as possible.
"We've gained a lot through this experience as well," said Stacy. "Being around all of these fresh-faced, motivated OT students rejuvenates our love and passion for the field of occupational therapy. We've also been exposed to new theories and practices which we can implement in our sessions at UF Health."
Meet our inpatient occupational therapists
Sheena Estalilla, MOT, has 11 years of occupational therapy experience and has been with UF Health for seven years. She is passionate about supporting patients with neurological disorders. Her favorite therapy techniques are neurodevelopmental treatment and proprioceptive neuromuscular facilitation, which are used to treat posture, muscular and movement impairments.
Sheena desired a career wherein she could help people live their life to the fullest by engaging in activities that are important and meaningful to them. Occupational therapy allows her to do that every day.
Stacy Stockard, MOT/L, has nearly 25 years of occupational therapy experience and has been with UF Health for 6 1/2 years. She is passionate about supporting orthopedic trauma patients and those with upper extremity injuries. Her favorite therapy techniques are fabricating splints for acute injuries, upper body wound care and edema prevention techniques.
"I knew I wanted to work in some field of medicine as early as 8 years old," said Stacy. "My grandfather had multiple strokes in his 50s and was left with significant left-sided hemiplegia, or paralysis. After months of intensive inpatient therapy, he was able to come back home since our supportive family all took turns acting as caregivers.
"At my young age, I didn't understand the complexity of his deficits or which health care provider was who, but I was intrigued by the medical care and loved watching his therapy sessions. To me, the coolest therapist was the lady who crafted a playing card stand for him out of plastic foam. She was the only one who asked my grandfather about his hobbies and interests. Because of her kind gesture, he was able to join the family and his buddies in a card club to play one of his favorite games – Euchre. I later learned his therapist was an OT!
"From that moment on, I was always seeking out medical experiences and held many jobs in medical settings. After graduating with a bachelor's degree in psychology, I realized how much psychology is involved in the occupational therapy framework, and decided that going to graduate school for occupational therapy was the right choice for me. And now, I'm 'the lady' making adaptions for my patients to help them get back to their hobbies and self-care while bring smiles to their faces!"
Visit UFHealthJax.org/rehabilitation-services to learn more about occupational therapy and other services offered at UF Health.