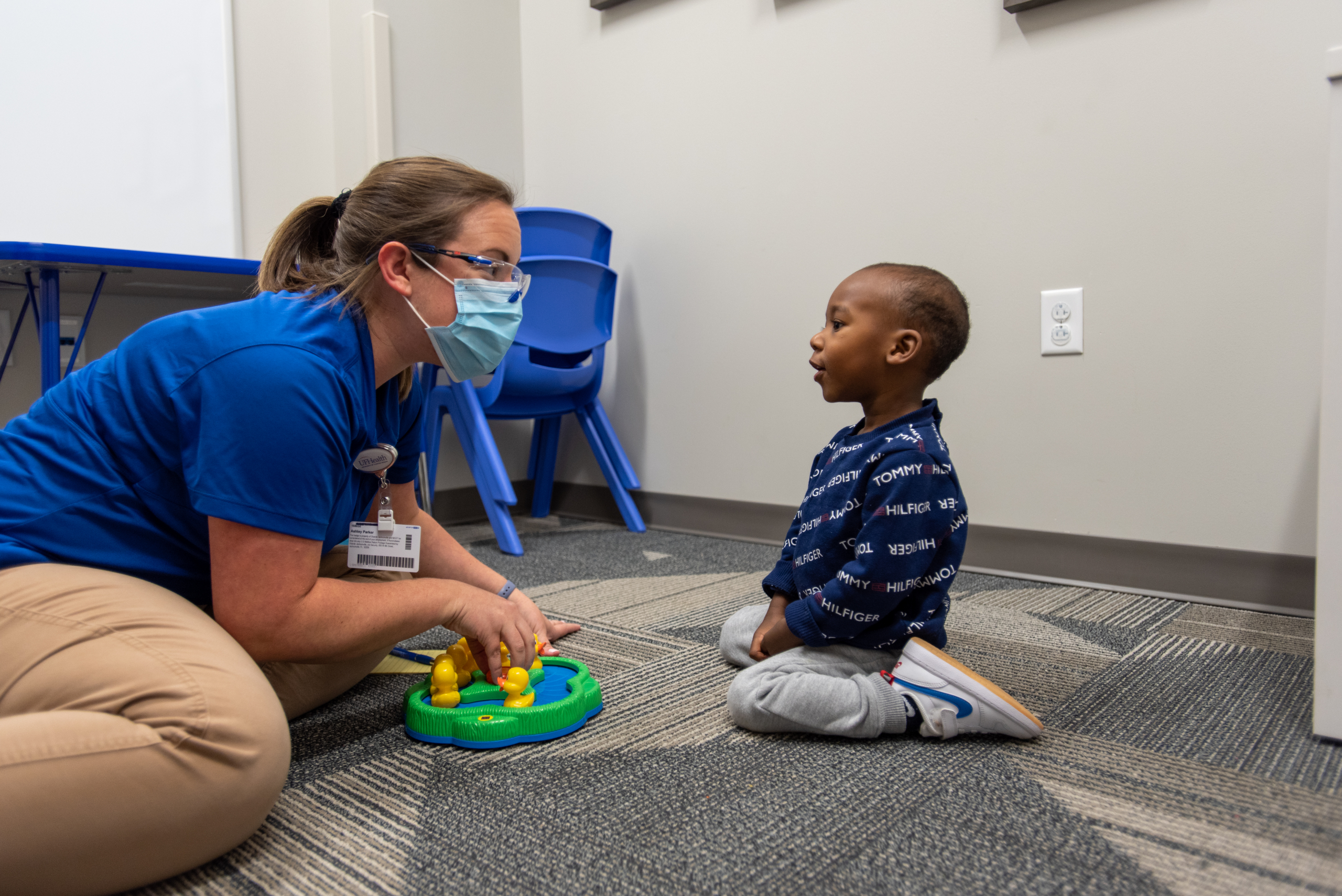 May is Better Hearing and Speech Month, which allows us to raise awareness about different types of communications disorders and the role of speech-language pathology' in helping patients find their voices. It also offers a chance for us to feature some of the incredible therapists at UF Health Jacksonville. Our first spotlight is on pediatric speech therapy.
The impact of pediatric speech therapy
Every night for the last three years, a local mom put her son to bed and said, "Love you, love you, love you." He was old enough to speak, but wasn't able to respond. After a month of speech therapy, he looked right at his mom and said, "love you, love you, love you" right back.
For Ashley Parker, a pediatric speech-language pathologist at UF Health Rehabilitation – Wildlight, stories such as these remind her that her career is more than science — it's work that comes from the heart.
"When I hear things like that, not just as a therapist, but also as a mom, it keeps me going," Ashley said.
Ashley works with children with speech difficulties. They might have trouble speaking, deciding which words to say or understanding the meaning of some words. Ashley also helps children with feeding, swallowing and behavior difficulties.
One of the early signs of a speech disorder in children is not babbling by 6 months old. By the time a baby is 12 to 13 months old, they should at least have one word that they use consistently for an item, even if it isn't the correct word, such as saying "baba" for bottle. They should also be able to understand a one-step direction and point to things they see or want.
By 18 months, toddlers should have a minimum of 10 words in their vocabulary, with the average child having around 50 words. Parents should look for their child to be learning new words consistently, both receptively and expressively, and talk to their pediatrician for a speech therapy referral if they have concerns about their development.
Children 3 years and older should have appropriate speech articulation, or how well their words are understood. Some speech sound errors are age appropriate at age 3, like pronouncing the word "race" as "wace." Consulting with a speech-language pathologist can give a parent a good idea of whether or not their child's speech clarity is appropriate for their age.
In addition to speech therapy, UF Health Rehabilitation – Wildlight offers occupational and physical therapy. Many kids who have significant developmental delays benefit from two, and sometimes all three, disciplines. The specialists work together to give patients and families a customized treatment plan to help meet their needs.
Meet a pediatric speech-language pathologist
Ashley Parker, CCC-SLP, has more than 10 years of speech pathology experience and has been with UF Health for more than two years. Before UF Health Rehabilitation – Widlight opened in October 2020, Ashley worked at the UF Health Center for Autism and Related Disabilities and the Florida Diagnostic and Learning Resources System.
Ashley exclusively supports pediatric patients and is passionate about working with children from 0 to 5 years old and elementary-age children.
"There is a myriad of therapy techniques that I love," said Ashley. "The best part of early intervention speech therapy is teaching language through purposeful play. I get to play with kids all day — that's the truth! I also love doing crafts with children to teach concepts and incorporating age-appropriate board games to reinforce therapy goals and teach social skills and reciprocal play interaction."
Her journey into speech-pathology started her freshman year of college. Her major was initially English for secondary education, as Ashley originally desired to become a high school English teacher. That quickly changed once her first class began.
"I left the first day of my first education class partway through and dropped education as my major," Ashley said. "The class I then picked up to fill the gap was 'voice and diction,' where I was introduced to the professor who changed the course of my life. He encouraged me to look into speech-language pathology and printed out applications to colleges offering that as an undergraduate degree. Had I not had his support and encouragement, I'm not sure I would have had the confidence to push through and do what I now know is my professional calling."
Learn more about Ashley's responsibilities at UF Health Rehabilitation – Wildlight and what she enjoys about her career in the video below.
Visit UFHealthJax.org/rehabilitation-services to learn more about speech therapy and other services offered at UF Health.