We continue our celebration of Asian American and Pacific Islander, or AAPI, Heritage Month, by featuring Genelyn Baroso, a supervisor in the department of pharmacy at UF Health North. Genelyn's heritage is Filipino, and she has been with UF Health for 14 years.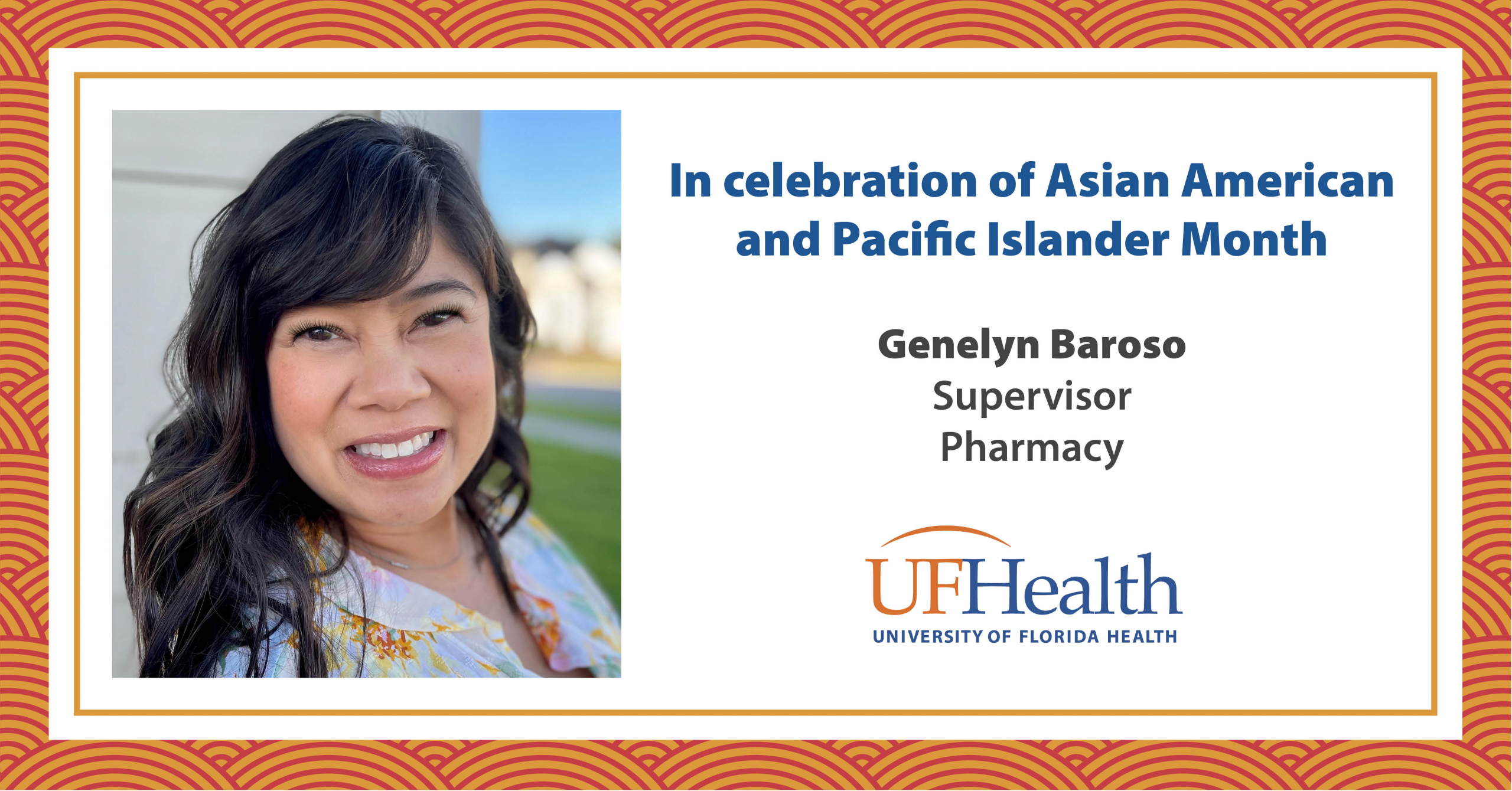 Q: Tell us about what you do at UF Health. 
A: As a pharmacy supervisor, I oversee the daily operations of UF Health North's inpatient pharmacy.
Q: What is it about UF Health that keeps you engaged and excited about working here?
A:Every day is a new opportunity! I see this as a way to contribute to a forward-thinking health care system that believes in the same mission and vision as I do, including the importance of access to quality care and education.
Q: What three words describe you?
A: Creative, resourceful and analytical.
Q: The theme for the 2021 AAPI Heritage Month is "Advancing Leaders Through Purpose-Driven Service."  In what ways do you personally and professionally align with this theme? 
A: Purpose-driven service in health care creates a positive culture that promotes leading with values and prioritizes people. Professionally, as a clinical pharmacist, I seek to promote safety and healing through medication optimization. As a supervisor, I do my best to foster an environment of fairness and inclusivity. Personally, I strive to be better than the day before. I attribute these values instilled in me from my Filipino upbringing.
Q: What are a few practical things diverse health care leaders — at any level — can do to help their organizations build more inclusive work environments?
A: An inclusive workplace is one where people who have all kinds of differences and abilities feel welcome and valued for their contributions. As a leader, you want to provide an environment where everyone feels heard. A practical model that I try to follow is: ask, actively listen and act. Asking your team questions shows that you have a willingness to learn and are open to new ideas. It helps you uncover the challenges you're facing and generates better solutions to solve those problem. Actively listening to both verbal and non­-verbal communication allows you to better understand your team. Then act upon what you heard. Activities you do as a leader reflect your values and enthusiasm.
Inclusion, diversity and equity are integral to the excellence and success of UF Health's mission. Visit the Inclusion, Diversity, Equity and Access website to learn more about current and future efforts at our enterprise.