We continue our celebration of Asian American and Pacific Islander, or AAPI, Heritage Month, by featuring Darrell WuDunn, MD, Phd, professor and chair of the department of ophthalmology and program director of the ophthalmology residency program at the University of Florida College of Medicine – Jacksonville. Dr. WuDunn's heritage is Chinese and American, and he has been with UF health for two and 1/2 years.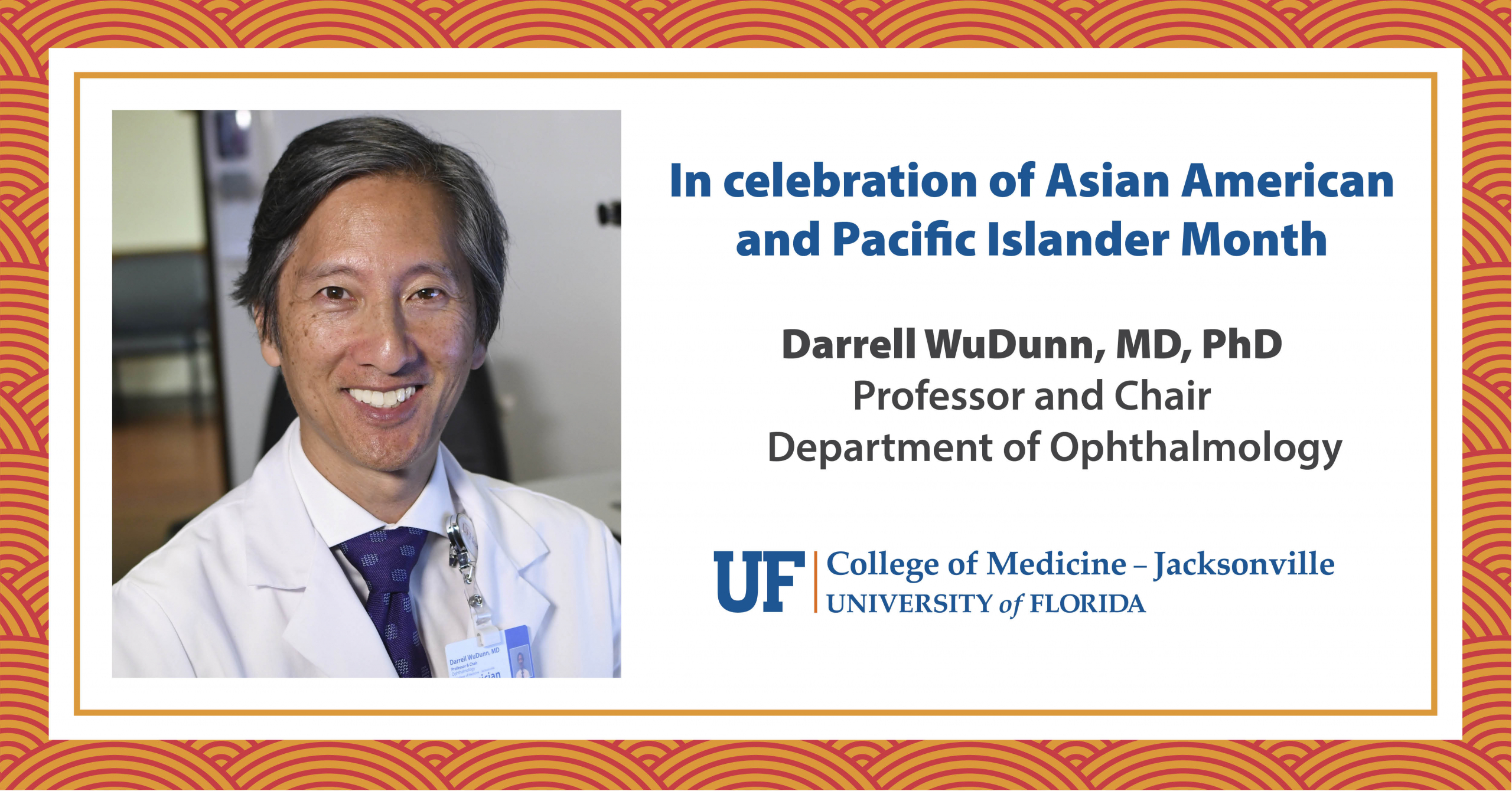 Q: Tell us about what you do at UF Health. 
A: My primary responsibility is to direct the department of ophthalmology. This entails overseeing the mission of the department, which is to improve eye health in the region by providing trusted high-quality eye care, educating the next generation of eye professionals, and making discoveries. I provide clinical care to persons with eye problems, particularly glaucoma and cataract. I also serve as program director for the Ophthalmology Residency Program, and teach and mentor our trainees in patient care and surgery. In addition, I engage in research studies, including clinical trials.

Q: What is it about UF Health that keeps you engaged and excited about working here?
A: Working at UF Health has its rewards and its challenges. I am excited for the opportunity to build up our department. We currently are a small department, yet we have excellent growth potential. We have a dedicated and energetic group of physicians, technicians, administrators and staff. Each time we bring on a new faculty member, new trainees, or new staff members, we move forward towards a stronger organization. Each new member has something to contribute. At the same time, we face numerous challenges that slow our progress. But every challenge presents an opportunity and overcoming the challenges sometimes provides the best rewards.
Q: What three words describe you?
A: Analytical, open-minded and even-tempered.

Q: The theme for the 2021 AAPI Heritage Month is "Advancing Leaders Through Purpose-Driven Service." In what ways do you personally and professionally align with this theme?
A: I strongly believe that everyone deserves high-quality health care regardless of their socioeconomic situation, their beliefs, ethnicity or past history. I try to make my department, organization, and community a healthier environment.
For example, at the very beginning of the COVID-19 pandemic, I wanted to ensure that we had a safe working environment for the patients, faculty, trainees and employees. Since we see nearly one hundred patients each day at our single facility, we are more prone to significantly spread infections. So, I engaged my technicians to design and produce hundreds of masks out of paper napkins, rubber bands and staples to distribute to our patients. Other members of the department produced barrier shields for our exam equipment to reduce the risk of spreading the infection to and from patients.
Additionally, over the past year, my wife, who is an oncologist, and I have been providing a weekly COVID-19 update on the latest scientific and epidemiological developments to senior leadership. Although my PhD was in molecular virology, I am sure some were wondering why an ophthalmologist and oncologist were so involved in assessing the COVID-19 pandemic. But for me, it was important that we, as an academic medical center, have the most up-to-date knowledge so that we can continue to contribute to the overall health of our community.
Q: What are a few practical things diverse health care leaders — at any level — can do to help their organizations build more inclusive work environments?
A: Solicit and value ideas from all members of the organization. Be open to people's suggestions and concerns. Emphasize teamwork. Be a role model for changes.
Inclusion, diversity and equity are integral to the excellence and success of UF Health's mission. Visit the Inclusion, Diversity, Equity and Access website to learn more about current and future efforts at our enterprise.