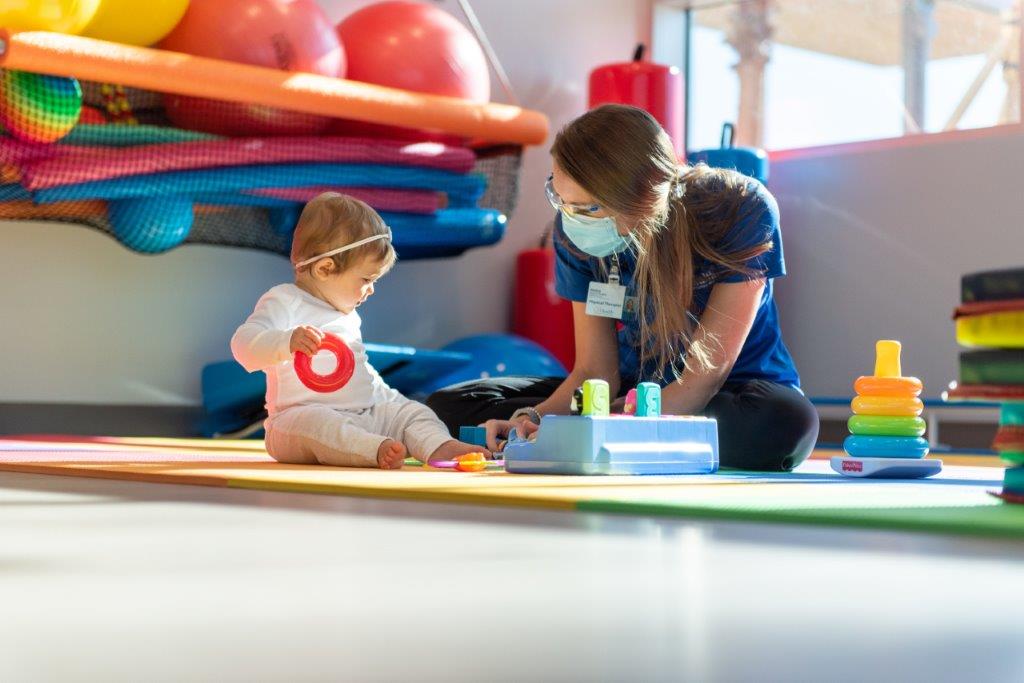 Physical Therapy Month gives us an opportunity to raise awareness about the benefits of physical therapy for multiple populations. UF Health Rehabilitation – Wildlight has a team of board-certified physical therapists who specialize in pediatric therapy.
Children need to feel comfortable and confident moving about their homes, at school and in social settings. Physical therapy techniques help children with gross motor skill challenges gain more independence through movement.
Jessie Walczak, a pediatric physical therapist, works with parents to build skills that can continue at home.
"I love being a physical therapist because I get to work alongside the families and learn what their everyday life looks like, so that I can help make a child's movement or independence a little bit easier for them," Walczak said.
Pediatric physical therapy can help families and children with a variety of concerns, such as delays in development, muscle weakness, poor coordination or balance, genetic disorders and other conditions such as cerebral palsy. In physical therapy, children are engaged with fun and age-appropriate activities to keep them motivated, while assisting them with reaching their goals.
Some signs that indicate physical therapy could be beneficial:
Your child has a strong preference for turning their head to one side or using only one side of their body
Your child is not meeting the expected developmental milestones during their first year, including:

2 months: holding their head up during tummy time

4 months: holding their head up in supported sitting, bringing hands to mouth and pushing up on elbows when in tummy time

6 months: rolling from tummy to back and back to tummy consistently, sitting up without support and reaching for toys/items and bringing them to their mouth

8–10 months: crawling on all fours—any variation in crawling or pulling up to stand at support surfaces are reasons to seek physical therapy intervention

12–15 months: taking independent steps

Your child is walking on their tip toes for the majority of the time after 2 years old
Your child is tripping and falling more than their peers when walking or is having trouble keeping up with other children their age
Your child has difficulty with using opposite sides of their body at the same time
Recognizing these signs and starting physical therapy early can help children progress and increase their strength and independence.
UF Health Rehabilitation is located inside the Wildlight community and shares a building with the YMCA. In addition to physical therapy, the practice offers occupational and speech therapy.
Many kids who have significant developmental delays can benefit from a multidisciplinary approach to therapy. Speech, occupational and physical therapists work together to give patients and families a customized treatment plan to help meet their needs.
Learn more about Jessie's responsibilities at UF Health Rehabilitation – Wildlight and what she enjoys about her career in the video below.
UF Health Rehabilitation – Wildlight offers pediatric services for patients from birth to age 18. Call
904-427-8300 or visit Wildlight.UFHealthJax.org/rehabilitation for more information and to make an appointment.