We are celebrating Asian American and Pacific Islander, or AAPI, Heritage Month, and featuring Dr. Jeanette Zhang, assistant professor with the department of surgery and trauma surgeon at UF Health Jacksonville. Dr. Zhang's heritage is Chinese, and she has been with UF Health for 2.5 years.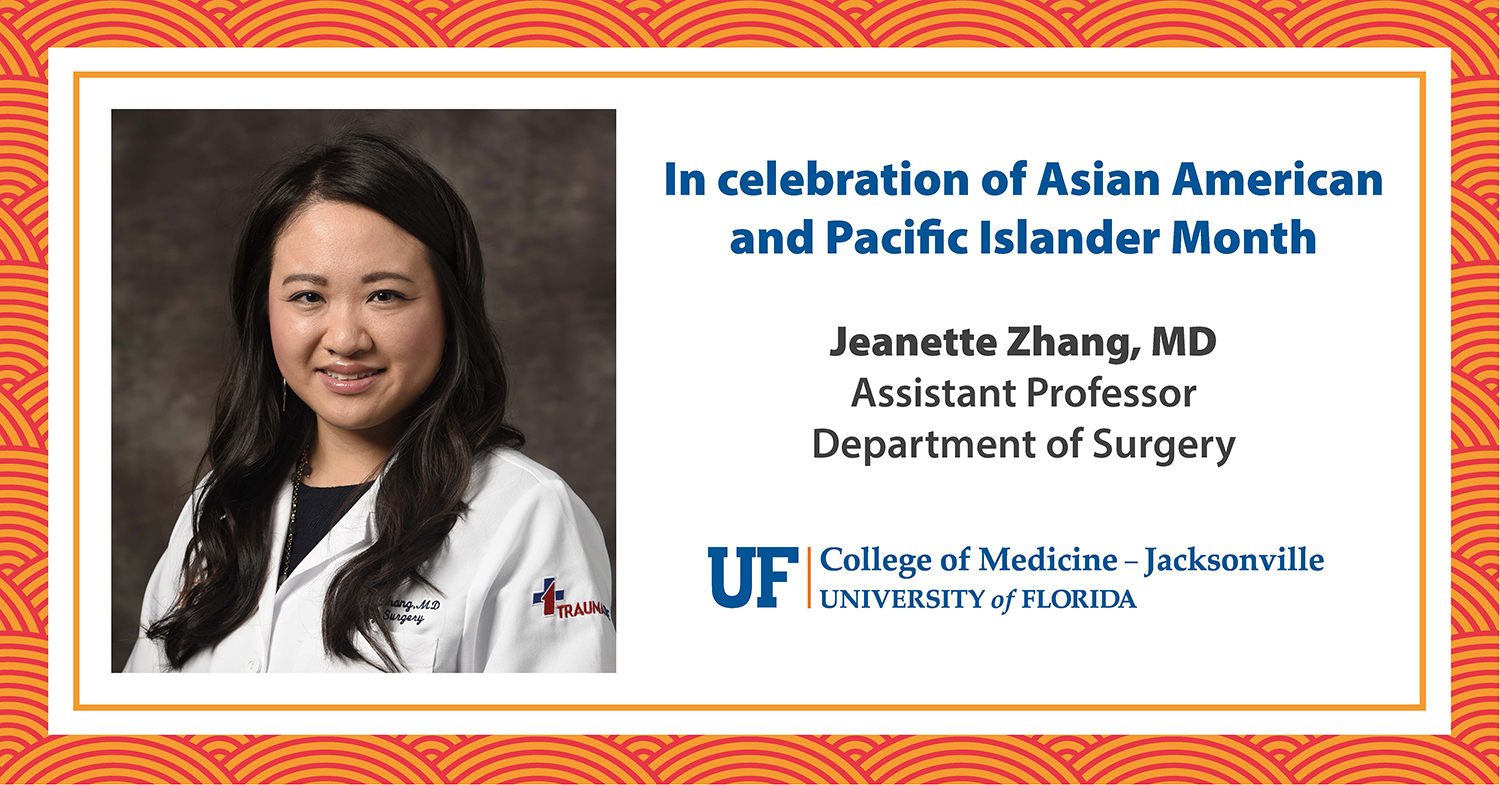 Q: Tell us about what you do at UF Health.
A: As an acute care surgeon, I am part of a team that takes care of trauma patients that are brought into our Level I trauma center. I also care for patients that present with general surgery emergencies, such as appendicitis and cholecystitis, as well as those who are critically ill in the surgical intensive care unit. I am an associate program director for the general surgery residency program, and teach and mentor trainees as they develop into future leaders of surgery.
Q: What is it about UF Health that keeps you engaged and excited about working here?
A: My time at UF Health thus far has been extremely rewarding. In a short period, we have seen tremendous growth of the division of acute care surgery and the department of surgery. Each new colleague who has joined our group has proven to be wonderful to work with and learn from. The aspect that is most fulfilling, though, has to be the institution's role in the community and the service we provide our patients, not only in Jacksonville, but the greater Northeast Florida and Southeast Georgia region.
Q: What three words describe you?
A: Resourceful, empathic, even-tempered.
Q: What does your AAPI identity mean to you?
A: Growing up as an immigrant myself, learning how to define my identity as an Asian American certainly influenced my experiences early on and throughout my education and training. It has given me perspective to understand multiple facets of not only a medical or surgical issue, but made me more sensitive to social and cultural undertones as well. I strive to promote inclusivity and cultural competency in my everyday practice, and to teach that to our students and trainees.