We are celebrating Asian American and Pacific Islander, or AAPI, Heritage Month, and featuring Dr. Kevin Liu, a fellow with the division of cardiology at the University of Florida College of Medicine – Jacksonville. Dr. Liu's heritage is Chinese, and he is a second year cardiology fellow.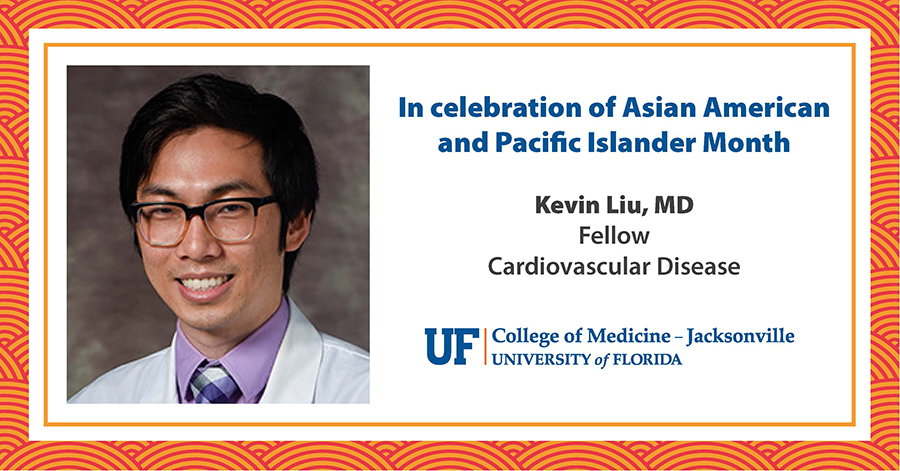 Q: Tell us about what you do at UF Health.
A: I am currently a second year cardiology fellow, and about to become a co-chief third year cardiology fellow.
Q: What is it about UF Health that keeps you engaged and excited about working here?
A: What keeps me engaged is the realm of cardiology, learning so many different kinds of pathology and how to treat these problems, and how treating these problems helps best care for our patient population.
Additionally working with so many gifted faculty with similar goals of trying to help people and who have similar mindsets makes working with and spending time with them enjoyable. Thus, this is why I also chose to become a co-chief, to help contribute to make the program better as best I can.
Q: What three words describe you?
A: Calculated, calm, thoughtful
Q: What does your AAPI identity mean to you?
A: Personally I do not think my heritage changes how I work in any way.
With respect to how patients interact with me, I think that it helps that I represent a minority that certain patient populations can identify with, and thus representing someone they can more easily speak with makes me take pride in my heritage.
On the flip side, when I see that there is a lack of those of AAPI descent both in the patient population and faculty, I can feel that there is some culture disconnect; luckily I do not think this causes a ceiling for work progression for my culture in particular (in fact may be beneficial because they may want to allow for progression to increase diversity) because I think everyone values work-ethic more, but there is some level of subconscious level of not belonging.
Q: Can you share a favorite local AAPI restaurant?
A: Jax Hot Pot and BBQ: It's rare to find food choices that still keep their cultural roots intact in restaurants made to cater to the dominant population. While not completely 100% true to its roots (everyone can get their own Hot Pot rather than a large pot to share, and there is a mix of Korean BBQ, Hot Pot, and a conveyor belt system), it is an all-you-can eat buffet with very good value and good food!