We are celebrating Asian American and Pacific Islander, or AAPI, Heritage Month, and featuring Chanrath You, an ambulatory float pool manager with the University of Florida Jacksonville Physicians, Inc. Chanrath's heritage is Cambodian, and she has been with UF Health for six years.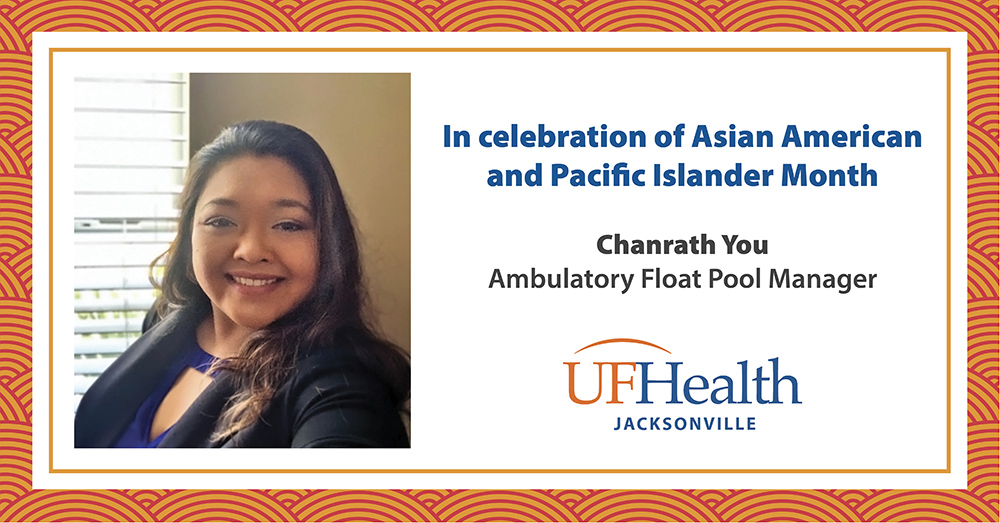 Q: Tell us about what you do at UF Health.
A: I am the supervisor of the ambulatory float pool team. My float team consist of customer service representatives and certified medical assistance. One of my responsibilities is to maintain our float pool schedule and assign my floats to assist clinics based on requests, reserve my float to assist the clinics or place the clinics on the wait list.
Q: What is it about UF Health that keeps you engaged and excited about working here?
A: Every day is a learning experience and a new opportunity to contribute in assisting the clinics to provide the best patience experience.
Q: What three words describe you?
A: Approachable, logical and resourceful
Q: What does your AAPI identity mean to you?
A: Growing up I had to learn and understand Cambodian culture and language along with American cultures and learning English. This was not only helpful to me, but it helped my parents to adapt to their new environment. Also, to ease my parents' anxiety, I continue to be their bridge between the two cultures and translate for them. Therefore, they continue to understand and navigate their new home. I believe learning about the different cultures and to overcome language barrier that my parents went through, taught me to be patient and that communication is the key to understanding and helping each other.
Q: Can you share a favorite local AAPI restaurant?
A: The local restaurant that I enjoy going to is Bowl of Pho. They were the first Southeast Asian restaurant that I went to that smells like home cooking. Of course, you will have to try their different types of Pho but one of my favorite dishes beside the Pho is their lotus root salad with shrimp. The salad is light and refreshing with fresh herbs that is will fill you up or you can share with a friend and have it with your choice of a bowl of Pho.