September 15- October 15 is Hispanic Heritage Month. During this time the histories, cultures and contributions of American citizens whose ancestors came from Spain, Mexico, the Caribbean and Central and South America are celebrated and recognized nationally. As part of this celebration, UF Health Jacksonville is spotlighting a few employees who share what they're Hispanic heritage means to them and how it influences them in their daily work with patients. 
Our first spotlight features Carolina S. Paredes Molina, M.D., assistant professor for the department of community health and family medicine.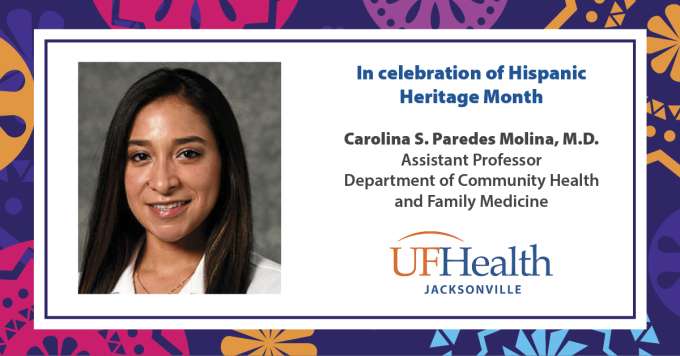 What do you find most rewarding about working with patients in your field?
The most rewarding part of being a Family Doctor is that I get to know my patients very well in many aspects of their health, not only physical, but emotional. Hearing my patients' gratitude for our work here at UF health Jacksonville gives me the motivation to continue to try to be the best doctor I can. In Family Medicine, we know a little bit of a lot, and that way, we can avoid long waits for our specialists and address the needs of our patients.
How do you feel you help grow the representation of Hispanics in the medical field?
When I graduated from Mayo Clinic, my goal was clear. I wanted to work in a clinic that had a history of serving Spanish Speaking patients so that we can continue to grow the support for our community. Having a clinic where 60% of the staff is Spanish speaking is a true blessing and this improves our care.
How does having representation in the medical field affect the overall patient experience?
This is one of the most important parts of the patient experience. Having a doctor and staff that speak our language saves time, referrals, money, and more importantly, we have cultural similarities that allow us to relate to one another which results in better health.
What does your Hispanic heritage mean to you?
Everything! As a Hispanic doctor I work towards equality every day and support all cultures. I come from a minority group which gives me the experience to continue to advocate for more representation.