September 15- October 15 is Hispanic Heritage Month. During this time the histories, cultures and contributions of American citizens whose ancestors came from Spain, Mexico, the Caribbean and Central and South America are celebrated and recognized nationally. As part of this celebration, UF Health Jacksonville is spotlighting a few employees who share what they're Hispanic heritage means to them and how it influences them in their daily work with patients.
This spotlight features Jose Montilla Crespo, M.D., medical director, UF Health Family Medicine – Oak Leaf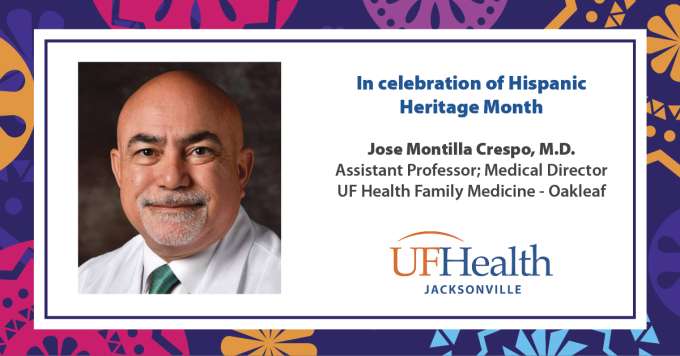 What do you find most rewarding about working with patients in your field?
Helping others is the most rewarding for me especially in good or bad health. I always knew I wanted to make a difference.
How do you feel you help grow the representation of Hispanics in the medical field?
By proudly representing and embracing my culture and being a mentor.
How does having representation in the medical field affect the overall patient experience?
Sometimes it's easier for patients to discuss their health in their native language. Because I am bi-lingual, it allows my patients the ability to experience a more favorable and pleasant patient journey with their healthcare provider.
What does your Hispanic heritage mean to you?
Hispanic heritage month means a lot to me. I'm extremely proud to be Hispanic and proud of my people and the contributions of my ancestor and the new generation in every aspect of life and culture.