September 15- October 15 is Hispanic Heritage Month. During this time the histories, cultures and contributions of American citizens whose ancestors came from Spain, Mexico, the Caribbean and Central and South America are celebrated and recognized nationally. As part of this celebration, UF Health Jacksonville is spotlighting a few employees who share what they're Hispanic heritage means to them and how it influences them in their daily work with patients.
This spotlight features Lourdes Dale, PhD, Clinical Associate Professor, Psychiatry – Jacksonville.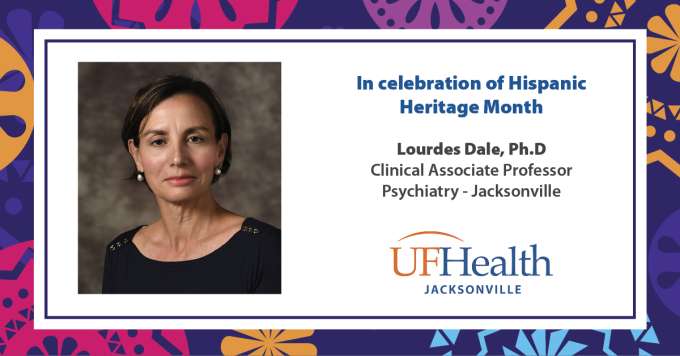 What do you find most rewarding about working with patients in your field?
The most rewarding part of my job is hearing the patients' stories and then doing psychological testing to help them understand themselves, including their strengths and needs. I appreciate being able to relatively quickly make a big difference in my patients' lives.
How do you feel you help grow the representation of Hispanics in health care?
Although Hispanics come from many different countries and have different histories, they share some values. In many Hispanic families, children are taught get over it rather than to talk about their feelings and problems. As a Hispanic psychologist, I appreciate being able to help my patients to talk about their feelings and concerns and to teach them that this process is the first step to making the necessary changes in their lives.
How does having representation in health care affect the overall patient experience?
Even if Hispanic patients speak the language, they may struggle to feel understood. As a Hispanic, they see me as one of their own and someone who can understand where they come from and their values. I believe Hispanic patients are more at ease when they realize that we share the same culture.
What does your Hispanic heritage mean to you?
Like many other Cuban families, my parents arrived in this country with nothing material, as they could not even bring my mother's wedding ring. However, what they brought was more important. They believed that through hard work they could pass along a good life to their kids. My father worked six days a week while my mother made our clothes to save money. We did not get to buy all we wanted, unless it was necessary for school. My parents taught us that hard work and an education were the keys to a better life. I am proud that my brothers and I have been able to benefit from what we were taught and to be able to pass along these values to our children.