September 15- October 15 is Hispanic Heritage Month. During this time the histories, cultures and contributions of American citizens whose ancestors came from Spain, Mexico, the Caribbean and Central and South America are celebrated and recognized nationally. As part of this celebration, UF Health Jacksonville is spotlighting a few employees who share what they're Hispanic heritage means to them and how it influences them in their daily work with patients.
This spotlight features Ana Alvarez M.D., associate professor, pediatrics – Jacksonville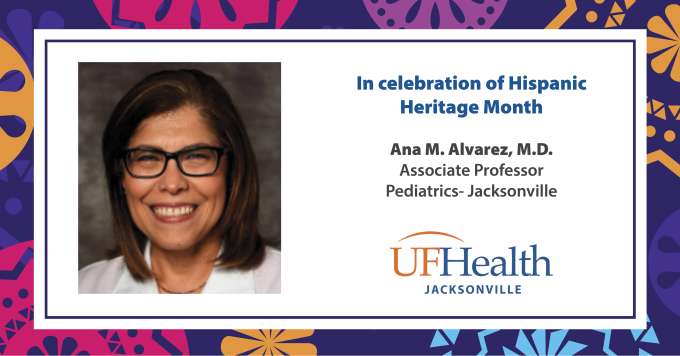 What do you find most rewarding about working with patients in your field?
I love to work with children and to help them get better. I enjoy doing infectious diseases because it requires paying attention to all the details of the story, physical exam and laboratories. We are detectives in the way we approach some of the more unusual presentations. The most rewarding thing for me is to see children recover from severe and complicated infections. Children are very resilient. With the correct diagnosis and treatment, they can bounce back from being critically ill to complete resolution in most cases.
How do you feel you help grow the representation of Hispanics in the medical field?
By encouraging Hispanic students to enroll in health-related education and training. Also, as a mentor, helping to set a good example that inspires them.
How does having representation in the medical field affect the overall patient experience?
With increasing diversity in our community, we have more and more diverse patients. Having a diverse medical team that represents the demographics of the community helps patients by making them feel more comfortable sharing their stories. This improves the patient outcomes, as it helps the team reach more accurate conclusions regarding the patient's diagnosis. Having healthcare providers that speak their language and understand their culture increases the patients' confidence in the medical team and this helps improve their adherence to the treatment and management plan, ultimately improving their outcome.
What does your Hispanic heritage mean to you?
My Hispanic Heritage represents my roots, where I came from. It helps me understand who I am. When I think about my grandparents and my parents, I am very proud of my heritage, because I come from hard-working and determined people for whom family and human relationships were more important than anything. My Hispanic heritage inspires me to give my best in everything I do because I want to be a good representative of my culture in this country, just as many have done before me.