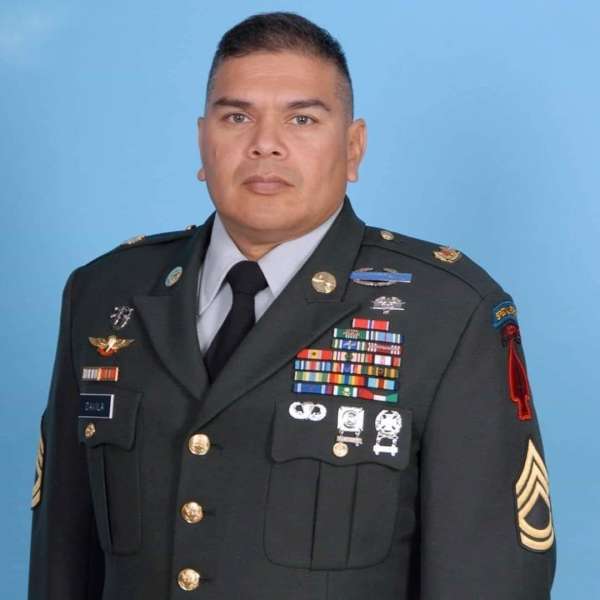 The Haley Brain Wellness Program is an interdisciplinary treatment program for military veterans experiencing persistent health issues associated with mild to moderate traumatic brain injuries, along with associated behavioral health issues, such as post-traumatic stress, anxiety, depression and substance use disorder. This is a testimonial shared by one of the program participants.
Meet Mike 
My name is Mike Davila. I served 25 years of active duty as a U.S. Army Special Forces Medical Sergeant, or Green Beret. Since 2006, I have suffered from traumatic brain injury and post-traumatic stress disorder.
My symptoms would get better, but then they would worsen. It seemed as though doctors never understood what was going on with me. I did have a good team of doctors who helped manage my physical pain, but for some reason I kept getting hurt and was in constant pain. Recovery seemed hard.
I struggled daily with having zero energy, feeling unmotivated and dealing with depression and anxiety. I could not do certain tasks. My brain seemed foggy and things were hard to remember. Bright lights, loud noises and crowds angered me, but worst of all, though I loved them, I avoided my family.
I was angry and yelling all the time. Everything seemed to give me migraines. I learned to avoid things and became calculated in what I could do and when, but mostly avoidance was the solution I chose.
One of my brothers, Sammy Rodriguez, led me to the Haley Brain Wellness Program at UF Health Jacksonville. It is a three-week program that focuses on the common issues between TBI and PTSD.
The Process
Through mindfulness, I immediately discovered my depression cycle as I went from agitation to exhaustion. Eventually, I learned how to regulate myself.
I learned communication skills that allowed me to express and accept things through radical acceptance. My brain was exercised to ensure I could do executive tasks. My memory improved, and my mental fog disappeared.
During physical therapy, my eyes and balance also got a workout. I was able to express and discover myself during art therapy while speaking to the psychologist. Although there was still a lot of work to be done, I was able to wind down with acupuncture, K9 therapy and equine therapy.
Managing My Life 
Mindfulness and resiliency training taught me how to gauge my feelings. I can now communicate using the right words or remove myself from a bad situation. If I'm too agitated, I can calm myself, and if I'm too sad, I can lift myself up again.
Speech and physical therapy have helped me to tolerate crowds, carry on a conversation, listen better and restore my sense of balance. Art therapy and counseling helped me let things go and get things off my chest. Past actions are just memories now, not anchors weighing me down.
Acupuncture taught me that pain can be present and not just a hinderance. I also truly appreciated K9 and equine therapy. I can't wait for my K9 companion.
In the end, I still have a TBI, PTSD, migraines and joint pain, but I have learned skills to regulate myself and navigate life with the pain. I'm losing weight, exercising, eating healthier and getting out more. Most importantly, I'm reconnecting with my family in a positive way.
Thank you, Haley Brain Wellness Program.