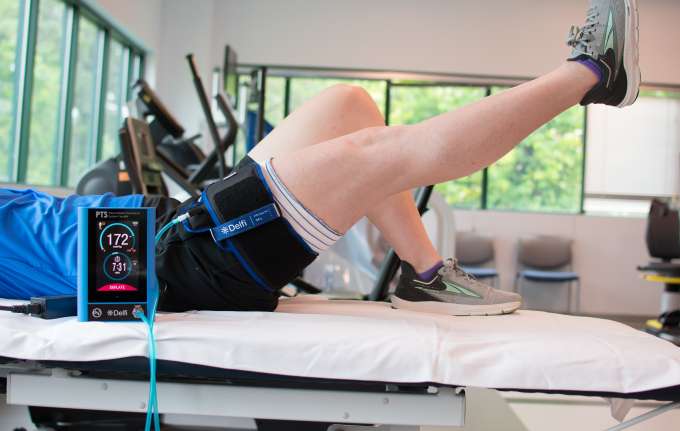 What is blood flow restriction therapy?
Blood flow restriction, or BFR, therapy is the process of partially restricting blood flow to a limb for the purpose of building and repairing muscle. BFR was developed for patients as a way to recover more quickly from injury or surgery1.
Although this type of therapy has been used for decades, it has only recently received wider attention, as professional teams and celebrities have started adding it to their exercise regimes2.
What happens during a BFR session?
During your session, a therapist attaches the BFR band to the limb they are trying to affect. For example, if it's the leg, the band will be placed around the upper part of the thigh, just below the buttock. If it's the arm, the band will be attached just below the shoulder.
The therapist sets the level of pressure and the BFR unit continuously monitors the pressure around the limb and will automatically adjust to ensure the right amount of pressure is maintained throughout therapy. While wearing the band, you will complete multiple sets of low-resistance exercises in order to stimulate muscle growth and healing.
BFR aids in faster recovery times
If you have ever had any type of tissue or joint injury, or orthopaedic surgery, then you may already know that a slow return to your normal daily routine and recreational activities usually is advised. Your doctor may give you and your physical therapist strict guidelines to follow in order for your body to properly heal. These guidelines can range from restricted weight bearing, restricted movement of the joint, or both.
The upside to these restrictions is they allow your body to heal, but the downside is the unused muscles quickly begin to decline in strength and size, also known as atrophy. This leads to weakness in your body, which can make the road back to doing what you love challenging and long.
BFR gives physical therapists the ability to stress the body in a way that mimics a higher intensity workout, without excessive strain on the joint and/or muscle. This technique allows your body to maintain more of the muscle you had before the injury (less atrophy) to build more muscle and recover faster.
Length of treatment
BFR treatment length may range from several weeks to months, depending on your specific diagnosis and how well you respond to the therapy. If you are making progress with the treatment, you may expect to visit your therapist twice a week for six to eight weeks. Treatment times may be longer for someone starting after surgery, or if their progress is slower than expected.
Is BFR safe?
Although BFR therapy is safe, it is not for everyone. If you have cardiovascular or circulatory problems, you may not be a good candidate for this type of therapy. BFR cannot be applied to areas with fresh wounds or severe edema. Also, some cancers can exclude your ability to use BFR. It is best to talk to your UF Health Jacksonville physical therapist and your physician to see if this treatment is right for you.
BFR is used for increasing strength in preparation for surgery, post-surgery rehabilitation and many other orthopaedic-related issues. It is also great for people who are in high levels of pain due to arthritis, or who may have health issues that make exercise at higher intensity more difficult.
Call 904.427.8900 for more information or to schedule an appointment.
1The Application of Blood Flow Restriction: Lessons From the Laboratory
2Effects of Blood Flow Restriction with Eccentric Training on Muscle Fatigue, Strength, and Hypertrophy