This May, UF Health Jacksonville is recognizing Asian American and Pacific Islander Heritage Month. It was initially recognized as a week in 1977 by the US Congress to commemorate the contributions of Asian Americans in the United States. It later became a full month celebration. The month of May also commemorates when the first Japanese immigrant came to the US in 1848 and when the transcontinental railroad was completed in 1869. Many people who worked on the railroad were Chinese immigrants. These various commemorations are now all celebrated in May together during AAPI heritage month.
Throughout the month, we are taking time to spotlight a few of our own faculty and staff from UF Health Jacksonville and the University of Florida College of Medicine – Jacksonville. Today's spotlight features Sarah Chiu, MD, Cardiovascular Disease Fellow, Department of Medicine.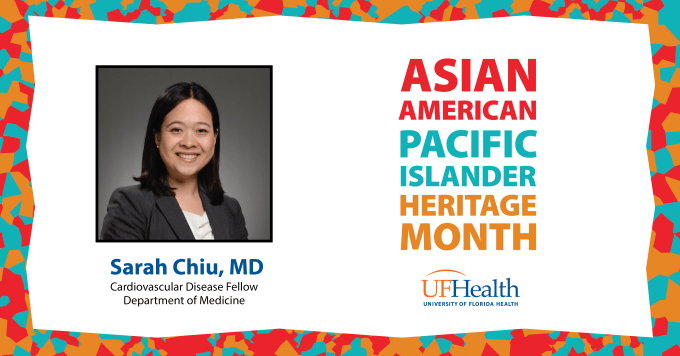 What do you enjoy about working at UF Health Jacksonville?
I have been at the University of Florida College of Medicine – Jacksonville for 10 months. I started as a cardiology fellow on July 1, 2022. It has been a great experience. There are several things I like about working here. First, everyone from faculty to staff in the division of cardiology has been very welcoming, supportive, and helpful. It really feels like being part of a big family. The fellows are bright, hard-working, and devoted to doing the right thing for the patient. Second, the opportunity to care for underserved populations at a safety-net hospital is wonderful because we learn so much pathology and treat very complex patients. Patients are also very grateful for our service so it is very rewarding. Third, there is a proactive attitude in improving systematic issues such as medical errors. We are encouraged to speak up and address underlying issues in a "just culture" society that does not blame the individual person. Thus, I think there is a lot of growth at this institution.
What does your AAPI Heritage mean to you?
My parents are from Hong Kong and Taiwan. Ethnically, my family is Chinese. In Chinese culture, we are instilled the values of strong work ethic, education and good health. I believe that a person's heritage makes them unique. In my culture parents often encourage their children to pursue reputable careers that allow them a comfortable salary and lifestyle (i.e. doctor, engineer, lawyer) because they simply want the best for them. Now, there is a trend to be open-minded allowing them to explore their passions. I'm glad Asian American and Pacific Islander Heritage Month exists because it brings more awareness to many fields in which we are underrepresented. Heritage is only a part of what defines a person, and every individual is different
How is your AAPI Heritage reflected in your day-to-day work and other activities?
I represent my heritage and ethnicity by being the best person I can be in work ethic, morality, and mental wellness. Because fellowship in cardiology can be rough at times, it's important to take a break for your emotional health. I engage other fellows to join fun activities here in Jacksonville. For instance, we regularly play tennis together, try new restaurants, and test our teamwork skills at the Escape Room! This past February I organized a lunch to celebrate Chinese New Year. We enjoyed some catered food, mandarin oranges, and received red envelopes. I taught others the meaning of the festivities and the Year of the Rabbit, which symbolizes longevity, prosperity, and hope for the new year. Finally, we are hoping to organize a free health fair later this month with the help of the vice president of community engagement and chief diversity officer of UF Health Jacksonville, Ms. Ann-Marie Knight.
Asian/Pacific Islander includes all of the Asian continent and the Pacific islands of Melanesia, Micronesia and Polynesia.