This May, UF Health Jacksonville is recognizing Asian American and Pacific Islander Heritage Month. It was initially recognized as a week in 1977 by the US Congress to commemorate the contributions of Asian Americans in the United States. It later became a full month celebration. The month of May also commemorates when the first Japanese immigrant came to the US in 1848 and when the transcontinental railroad was completed in 1869. Many people who worked on the railroad were Chinese immigrants. These various commemorations are now all celebrated in May together during AAPI heritage month.
Throughout the month, we are taking time to spotlight a few of our own faculty and staff from UF Health Jacksonville and the University of Florida College of Medicine – Jacksonville. Today's spotlight features Meriza Amosin, BSN, RN, a charge nurse at UF Health Jacksonville, who goes above and beyond in her work and care for patients every day. Amosin has been at UF Health Jacksonville for nine years and continuously maintains a positive and professional attitude while running her unit.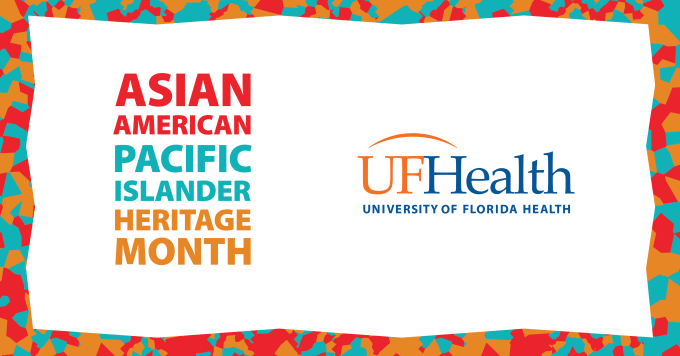 What do you enjoy about working at UF Health Jacksonville? 
In my daily work, I provide a comprehensive care to patients for their various health conditions and provide education not only to patients, but also to their family and the community. UF Health Jacksonville motivates you to grow professionally and I believe we have the best health care system in the community.
What does your AAPI Heritage mean to you?
Understanding and embracing my culture helps me to truly understand my patients and be able to appreciate other cultures.
How is your AAPI Heritage reflected in your day-to-day work and other activities?
Coming from a country known for its hospitality, I have a very good relationship with my colleagues and excellent team work on my floor. I regard my patients and their families as if they are my own and treat them with the utmost respect. I take care of my patients to the best of my ability and work to deliver excellent care, understanding and compassion to improve their well-being and I always serve as an advocate for them.
Asian/Pacific Islander includes all of the Asian continent and the Pacific islands of Melanesia, Micronesia and Polynesia.