From September 15 to October 15 Hispanic Heritage Month is celebrated in the United States. During this time the culture, contributions and history of American citizens whose ancestors came from Spain, Mexico, the Caribbean and Central and South America are honored and recognized nationally. The Hispanic population has been an integral part to the prosperity of the U.S. and they have left a lasting mark on the country's culture and economy.
Today's spotlight features Anamarys Blanco Fernandez, MD who has been with UF Health Jacksonville for 2 years.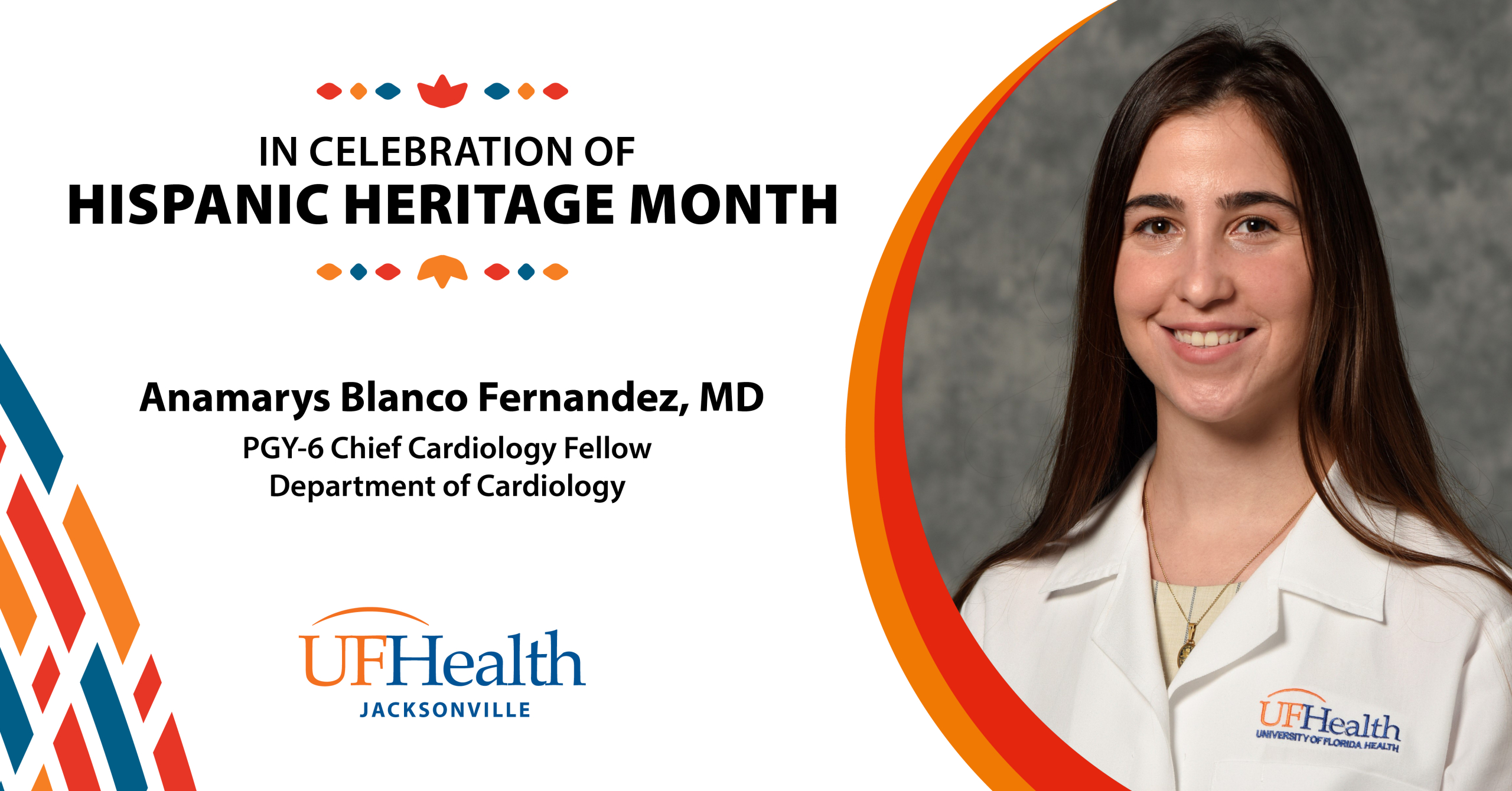 How can language be a barrier when it comes to getting health care services?
There are several reasons why language can be a barrier which includes lack of effective communication between health care providers and patients which is crucial to understanding their concerns, disease processes, diagnosis, treatment, and care instructions. There is also cultural differences and beliefs that can impact the quality of care of these patients. Although we use professional interpreters or translation services in the hospital, it can still be difficult for patients to communicate effectively, and it can limit the trust of patients with their health care providers which can impair their care.
How has being a Spanish speaking provider helped you to better serve clients or do your job better in general?
It facilitates better communication with the Spanish community, improves their care and accessibility as they feel more comfortable seeking health care from a doctor who speaks their language, and it helps me earn their trust which in turn improves their quality of care. With me being able to have direct communications with this population without the need of an intermediary, it allows for reduced miscommunication and potential errors which can have serious consequences in their quality of life.
How do we overcome the language barriers in order to provide better care?
Hiring bilingual staff members and interpreters is a crucial part of this. We also need more access to multilingual materials such as consent, educational pamphlets/materials, and be sensitive to our cultural differences in order to provide better care.
What does your Hispanic heritage mean to you?
It is my source of pride and identity. I wear it as a badge of honor. I always share my roots and traditions to those willing to listen and it will always be a major part of what represents me.