Acute-inpatient rehab services can help a patient recover from stroke, brain injury, spinal cord injury, neurological disorders or other injuries that have affected their ability to function independently on a daily basis. Acute-inpatient rehab services include several types of therapy: occupational, physical and speech.
The UF Health Jacksonville Rehabilitation department has a team of therapists that provide these services to assist patients in returning to an independent and productive life. The team consists of physical and occupational therapists and speech-language pathologists. Each therapist plays a role in the patient's overall recovery. In this blog, we'll discuss what each type of therapy is and how it helps the patient during their recovery journey.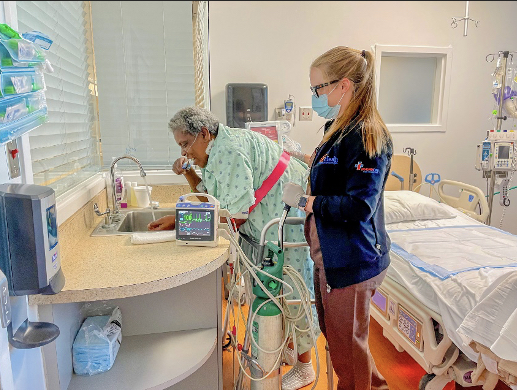 Occupational Therapy
Occupational therapy, sometimes referred to as OT, centers around understanding what activities are meaningful to individual patients in their daily lives and helping them to increase mobility around those activities. The goal is to help patients gain or re-gain the ability to participate in these activities.
The therapist focuses on engaging patients in meaningful and functional everyday tasks. These tasks can include anything from brushing their teeth, getting dressed, to more complex activities, such as going to the store or engaging in a hobby. Occupational therapists assess visual, cognitive, and physical skill deficits and discuss personal goals with the patient to provide a customized rehabilitation plan to maximize their recovery. The therapist also provides skilled patient-centered care, from custom upper extremity splint fabrication, lymphedema wrapping, neonatal therapy, neurological coma stimulation, and education after polytrauma or surgery.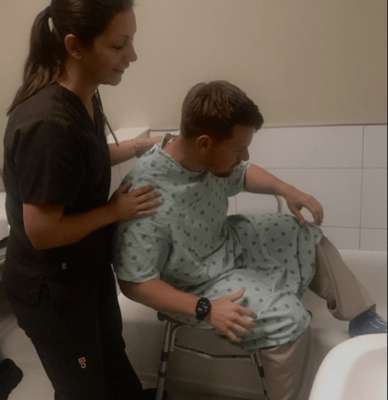 Physical Therapy
Physical therapy, sometimes referred to as PT, focuses on rehabilitating a person's ability to be mobile. Physical therapists incorporate various techniques and interventions to aid patients in regaining their motion, strength, and function.
Patients in the hospital and inpatient rehabilitation setting work on engaging the muscles needed to regain the ability to move with or without an assistive device. This helps maximize the person's mobility during recovery from their injury or condition.
Physical therapy sessions address improving a patient's ability to complete tasks, such as bed mobility, balance, transfers and gait training. Additionally, our physical therapists provide patients with education to aid them in establishing a regular exercise routine for lifelong health and wellness. The overall goal is to reinstate a patient's independence that allows them to move safely and efficiently.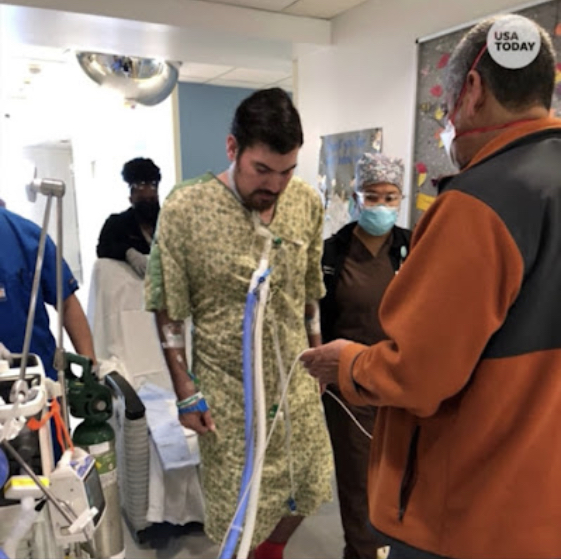 Speech Therapy
Speech therapy, also known as speech pathology, is the study and treatment of speech and language problems. A speech-language pathologist, or SLP, provides direct care for individuals who have been involved in a traumatic event that impacts their speech, language, cognition or swallowing abilities.
Speech-language pathologists focus on speech production, comprehension of spoken words, expressive language, reading comprehension and written language to improve communication during recovery from an injury or condition.
They provide assessment and plan therapies to improve or correct these disorders, which can be caused by a wide range of conditions, including stroke, brain injury and hearing loss, as well as neurological conditions, such as Parkinson's disease, multiple sclerosis or ALS. A neonatal SLP focuses on supporting newborn infant's development, maximizing developmental outcomes, and providing counseling and family-focused education and training. They also treat swallowing and feeding problems via bedside clinical exams, diagnostic video fluoroscopy swallow studies and bedside flexible endoscopic evaluation of swallowing exams.
To learn more about our rehab services visit: Rehabilitation – UF Health Jacksonville (ufhealthjax.org)