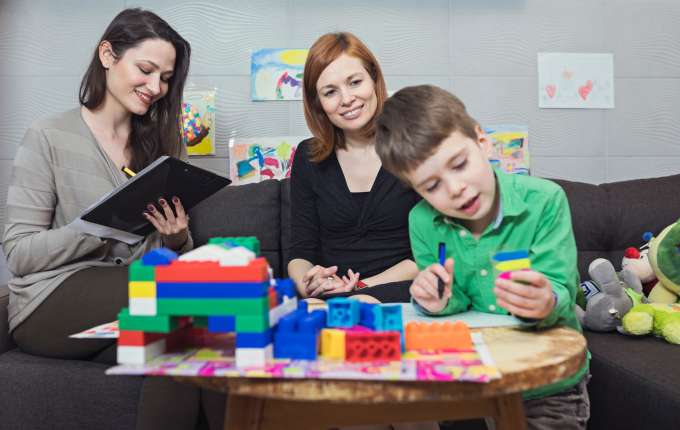 Parent-Child Interaction Therapy, or PCIT, is a research-based therapy used to help manage disruptive behavior in children ages 30 months to 7 years. As a parent/caregiver, you participate in the sessions that take place in a specially designed playroom. A highly trained therapist watches through a one-way mirror to offer suggestions and provide feedback to the parents in the moment.
The sessions help you to learn and practice new skills while having fun with your child. Goals include promoting your child's positive behaviors and easing your frustration and stress to provide you and your child with the best possible outcomes. This treatment not only helps strengthen and improve your relationship with your child, it also will equip you to manage the most challenging of your child's behaviors while remaining confident, calm, and consistent in your approach to discipline.
Kourtney Schroeder, PsyD, is a UF Health Jacksonville psychologist, with areas of focus in anxiety, depression, PCIT and PTSD, leads the PCIT program at UF Health Psychiatry – San Jose.
"PCIT is a supportive, hands-on approach to assisting a family in real time in practicing skills to improve their relationship and display better behavior," Schroeder said. "Parenting isn't always easy, but the hope is to have balance in the good and the not so good we experience with our children."
Who is PCIT Right for?
We work with families whose young children are experiencing significant behavior problems. Targeted behaviors include:
Hitting, kicking, biting
Talking back, whining, swearing
Not following directions
Temper tantrums, outbursts
Distracted, impulsive or hyperactive behavior
What to Expect From PCIT?
PCIT is a hands-on treatment that allows therapists and caregivers to work as a team to manage behavioral problems in a practical yet unique way.
You will need to schedule an intake screening to see if you meet eligibility requirements for the therapy program.
Sessions last 16 to 20 weeks, dependent on meeting performance-based goals.
Weekly sessions last about one hour and should be combined with brief daily practice at home.
Coaching takes place during the session as our therapist observes you interacting with your child in a specially designed playroom.
Our therapist will teach you parenting strategies best suited to your child's behavioral needs.
At the completion of PCIT, parents/caregivers generally report a higher level of satisfaction, improved mood and decreased stress levels.
Our Goals for Your Child
Parent-Child Interaction Therapy aims to teach specific techniques that will help families reduce negative interactions and increase positive communications. Program goals include building your child's self-esteem, improving your relationship with your child and increasing your child's ability to manage frustration and anger.
The sessions also aim to improve your child's social skills and boost compliance, as well as listening and attention skills.
"This type of therapy gives parents the chance to not feel alone in managing tough behavior," Schroeder said. "I have many families that describe this as life changing, in that they now have the tools and confidence to handle stressful situations with their child."
Call 904.383.1038 to schedule an intake screening to determine eligibility.
Visit UFHealthJax.org/psychiatry to learn more about the services we offer.