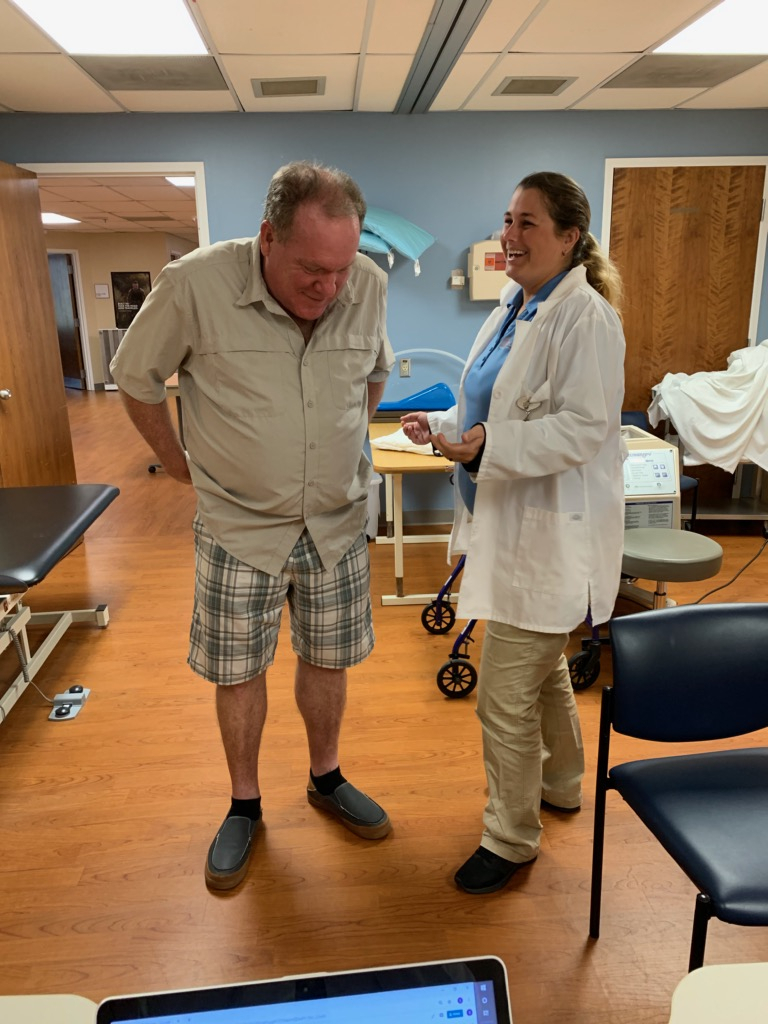 Hand Therapy Week recognizes the amazing work of occupational therapists, as well as the benefits of hand therapy. To celebrate this week, we are sharing how a few patients overcame obstacles by completing hand therapy treatments from our occupational therapists.
James Thompson, a patient at UF Health Rehabilitation – Jacksonville, fell from a ladder in September 2018, sustaining fractures of the ribs, neck and thoracic vertebrae. He underwent a spinal fusion the following month and remained at UF Health Jacksonville — including in the Transitional Care Unit — until February. He received occupational, physical and speech therapy services along the way.
In March, Thompson started outpatient physical and occupational therapy at UF Health. He aimed to be completely independent with all meaningful self-care activities. During one OT session, he reported he was unable to lift his shoulders without pain and couldn't wash the back of his head. Since he had limited neck motion from the fusion, this activity made him feel frustrated and incapable of caring for himself completely. Thompson's daughter assisted him during dressing activities, such as putting on a belt, since he was unable to reach behind his back.
After eight long weeks of hard work with his occupational therapist, Jessica Vogel, Thompson was thrilled to finally be able to wash the back of his head and put on his belt.
"Thanks to Jessica, I am able to care for myself much easier and I do not have to rely on anyone for help getting dressed," Thompson said. "She has tried many different therapy techniques that have helped me accomplish my goals."
All UF Health Jacksonville outpatient rehab locations have certified hand therapists to assure maximum functional and occupational outcomes are achieved for all upper extremity diagnoses. Visit ufhealthjax.org/rehabilitation-services to learn more about the therapy services offered.
Interested in more Hand Therapy Week stories and information? Follow along on Twitter by searching the hashtag #HTW2019 or visiting the American Society of Hand Therapists' Facebook Page.