UF Health Family Medicine is being spotlighted for the fantastic job its providers and other staff members have done in adjusting to new policies and health protocols amid COVID-19. Several employees have been recognized by leaders and colleagues for their strong leadership, collaboration and innovation.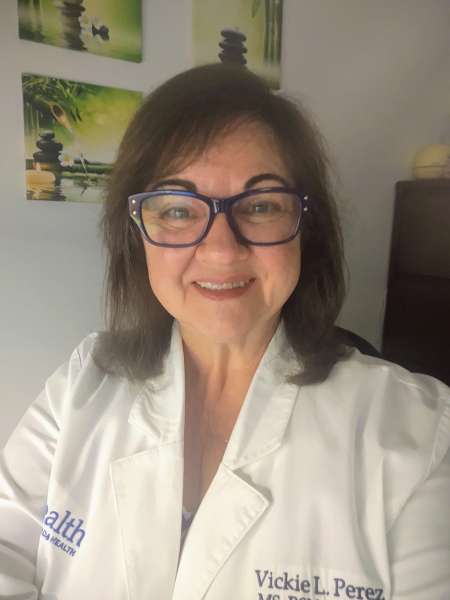 From pain management to a multisite collaboration
Vickie Perez, nurse manager at UF Health Pain Management Center – Jacksonville, is one of the many ambulatory care employees who consistently raised her hand to take on new tasks and responsibilities during the pandemic. Rita James, vice president of ambulatory care services at UF Health Jacksonville, lauds the commitment.
"Vickie assisted ambulatory services at the downtown campus in so many ways," James said. "She was always volunteering and always doing a great job."
Perez took the lead when patient temperature checks were implemented at entrances. She coordinated screenings at all entrances except the Clinical Center's main entrances and emergency room entrances. Perez developed and maintained the staff rotation, educating all on the process. She took time out to locate and purchase touch-free thermometers — a huge feat during a period when that equipment was scarce.
Perez collaborated with physicians and clinical educators Lisa Brannon and Mia Vincent to identify and implement three respiratory clinics for patients exhibiting COVID-19 symptoms. Perez, Brannon and Vincent coordinated with Infection Prevention and Control to educate clinic staff on which personal protective equipment is needed for certain roles and how to appropriately wear it. Perez continues to monitor the amount of staff needed at the Faculty Clinic entrance to screen patients prior to entering the building.
The recent implementation of testing locations for patients was another opportunity for Perez to step up. She also actively assisted with securing staff at the Faculty Clinic location.
Embracing telemedicine
Telemedicine clinical educator and registered nurse Jessica Peters has an infectious, vibrant personality. She has been an advocate of UF Health Virtual Visit for several years, serving as a primary educator and point of contact for multiple UF Health primary care locations. Peters, along with a vast cast of others, including Nipa Shah, MD, Tina Smith, Katie Carpenter and Bill Sommer, worked together to promote Virtual Visit at the start of the pandemic and continue to encourage patients to use telemedicine.
Because of their tireless efforts, UF Health Family Medicine practices went from performing 350 telemedicine visits per month in February to more than 20,000 visits in April. The team swiftly and gracefully overcame multiple challenges along the way like educating providers, staff and patients about telemedicine and Zoom and reviewing and restructuring Epic, the organization's electronic health record system. All of these pieces had to be connected and flow smoothly for patients to be scheduled, registered for Virtual Visit and connected with their providers.
Peters was consistently approachable, available and open to feedback, no matter the time of day. She worked diligently with the team to prepare and refine training and manage workflow documents. She and the team developed internal virtual training sessions for providers and staff. After having her second child in the fall, Peters had just returned to work in late December.
"It goes without saying that Jessica was a time management hero and serious team player, based on the way she juggled lots of responsibilities and requests," James expressed.
Overcoming testing challenges
Charles Haddad, MD, medical director of UF Health Family Medicine – Dunn Avenue, took the lead once respiratory clinics were deemed necessary. Haddad volunteered his practice and immediately began developing a workflow and clinical processes to be implemented at his location and at the other selected practice, UF Health Family Medicine — Goodbys Creek.
From March to mid-May, more than 300 symptomatic patients were seen at UF Health Family Medicine – Dunn Avenue. Early implementation was challenging because specimens initially had to be sent to outside laboratories, as the hospital did not have testing capability yet. In addition, as other UF Health Family Medicine practices requested to test their own symptomatic patients, Haddad gladly volunteered to educate providers and staff at each location and review workflows to ensure appropriate infection prevention.
A team effort from countless others
"So many of our UF Health Family Medicine physicians, providers and staff stepped up and worked together to accomplish tasks and initiatives that have never been done before," James said. "I'm proud of each and every person in this group."
Though several employees were mentioned, the entire department has been quick to learn new programs, tasks and tactics during these challenging times. Their efforts have allowed for a seamless implementation of new protocols and initiatives in all primary and specialty care practices.