May is Asian American and Pacific Islander, or AAPI, Heritage Month, and this year's theme is "Advancing Leaders Through Purpose-Driven Service," as deemed by the Federal Asian Pacific American Council.
The inspiration of this theme stems from purpose-driven service creating a positive culture that empowers leaders, offers frequent encouragement and feedback, and puts employees first.
We are recognizing this significant month by featuring several UF Health Jacksonville employees and University of Florida College of Medicine – Jacksonville residents. Our first spotlight is on Brian Nguyen, DO, neurology resident. Dr. Nguyen's heritage is Vietnamese and Chinese, and he has been with UF Health for four years.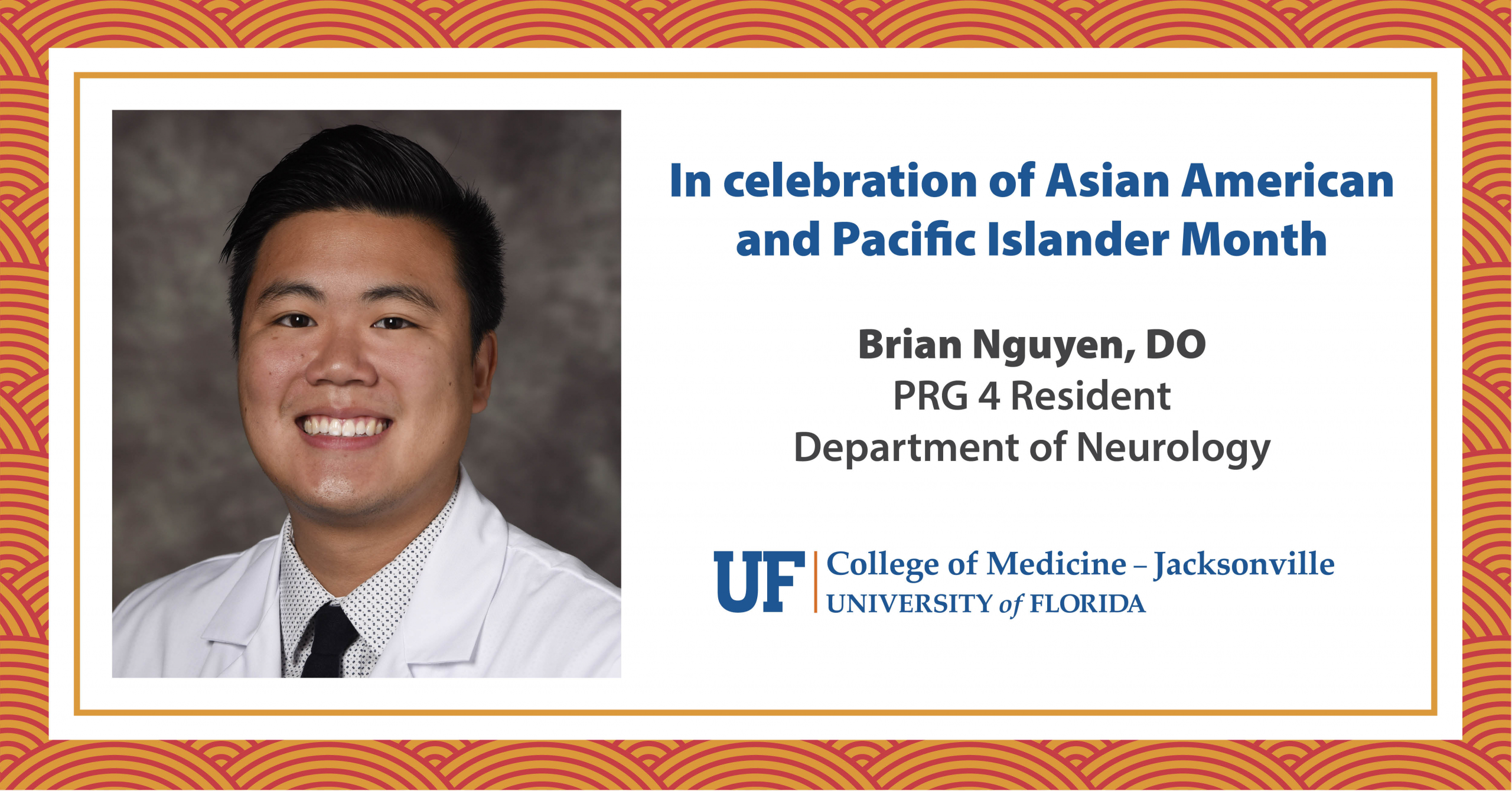 Q: Tell us about what you do at UF Health. 
A: I'm a neurology resident finishing up my fourth and final year. Currently, I'm completing a mix of neurology subspecialty rotations and practicing in outpatient clinics with occasional inpatient care. In the past, you may have seen me in the Emergency Room helping our colleagues there with emergent stroke patients, or in our 4 North unit where most of our neurological patients are admitted.

Q: What is it about UF Health that keeps you engaged and excited about working here?
A: UF Health gives me the opportunity to make a difference in trying to help improve the overall health care of our local community. Additionally, the exposure to rare pathology keeps me interested and learning. By working at a safety-net hospital, I know that the improvements I make in the lives of my patients are profound. I've enjoyed contributing to UF Health through the Graduate Medical Education committee along with several other quality improvement groups over the past few years. I also think what makes UF Health special are the people. There are co-residents, staff members, hospital executives, greeters and more who have come from all over the world to teach, share their stories and help improve lives in our community.

Q: What three words describe you?
A: Calm, carefree and spontaneous.

Q: The theme for the 2021 AAPI Heritage Month is "Advancing Leaders Through Purpose-Driven Service." In what ways do you personally and professionally align with this theme? 
A: To me, purpose-driven service is why am I drawn to practicing medicine. Personally, I am motivated to try and provide health care to all. Medicine is challenging because it exists in every culture with roots leading back centuries with contradictions and differing viewpoints. In America, where we are proud to have a melting pot of people from all races and cultures, this presents a unique challenge, one that I think is best met head on. Because everyone has different exposures and viewpoints of medicine, diagnoses and treatment plans can sometimes run into barriers caused by differences in language and culture. This problem is further amplified through time when misunderstandings or mistakes become propagated through generations.
During the COVID-19 pandemic, we've seen the skepticism of medicine brought to the forefront of national media attention. This is something that has been ongoing for as long as I can remember. Growing up, many of the things that I was taught about health care have been proven false.
Professionally, I am excited and honored to have strangers trust my judgment and allow me to help them have the best chance at a healthy life. I am especially excited whenever I sense a patient has a language or culture barrier that I or someone on my team is able to address. I believe that these subtle interactions can play a huge role in the difference between a patient understanding and agreeing with a medical plan or being lost in the field of health care. I think it is important to identify these barriers and make others aware of them, so that we can truly provide the best care for everyone. For me, being able to help someone take control of their health and overcome prior conceptions is one of the most rewarding aspects of medicine.

Q: What are a few practical things diverse health care leaders — at any level — can do to help their organizations build more inclusive work environments?
A: I think that health care leaders should lead by example. If you want an inclusive work environment, you need to accept others and be willing to teach ways to improve not just patient outcomes, but outcomes for your colleagues as well. A leader should never mock others and instead should aim to make everyone on the team feel like they are contributing to the overall success of the group. I think it is important to identify the strengths of those you work with and help others advance and grow those strengths.
Inclusion, diversity and equity are integral to the excellence and success of UF Health's mission. Visit the Inclusion, Diversity, Equity and Access website to learn more about current and future efforts at our enterprise.