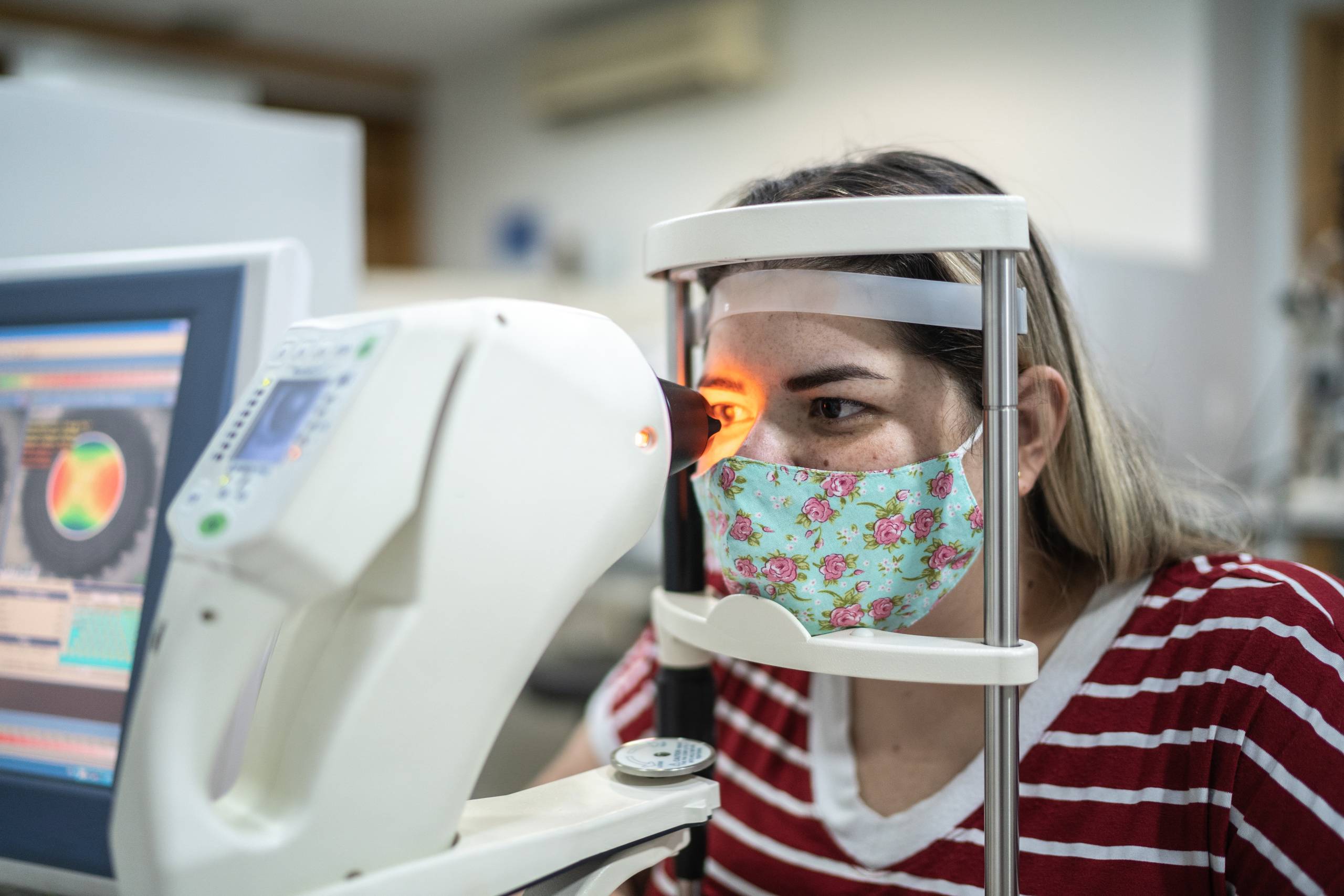 Imagine looking at life through a foggy window. People with a cataract in one or both eyes experience blurry vision from the clouding of the eye's natural lens. While cataract disease is a common condition for people 40 years and older, if left untreated, cataracts can progress to vision loss.
What are some of the risk factors for cataract disease?
Aging is the top risk factor when it comes to cataracts. The older you are, the more likely you are to develop a cataract. Other factors that may increase your risk are a family history of cataracts and genetic diseases, such as diabetes, high blood pressure or obesity. Cataracts may also be associated with smoking and long-term exposure to sunlight, which can lead to the eye lenses becoming more opaque. In rare instances, injury or inflammation in the eye can cause secondary cataracts.
Did my recent routine eye exam include a screening for cataracts?
It is possible for an optometrist to spot a cataract during a routine eye exam. However, there is no definitive test for cataracts. If your vision has not improved after getting new glasses or contact lenses, you should see an ophthalmologist. An ophthalmologist can run a series of tests and determine a diagnosis based on any vision loss or abnormalities.
When should I consider surgery for cataracts?
We usually tell people with vision issues to consider getting glasses or another form of corrective eyewear. When it comes to cataracts, if your symptoms start to interfere with daily tasks like driving, reading or work, and glasses or contacts are no longer helping with your vision, it's time to consider surgery. Our providers would conduct an evaluation or assessment to determine the severity of the cataract and the best process for removal.
What can I expect from cataract surgery?
Cataract surgery is the most common operation our team of ophthalmologists performs here at UF Health Jacksonville. It is an outpatient procedure that takes approximately 30 minutes, with the whole process of arrival to discharge lasting less than half a day. We use a local anesthetic to allow our patients to stay awake during the operation. Most of our patients can see clearly either immediately after surgery or by the next day. If patients have denser cataracts, the procedure and recovery time may last longer.
Will I still need to wear my glasses after cataract surgery?
One of the benefits of cataract surgery is the lens options. We can put any lens needed inside of your eye. For example, if you are nearsighted, we can use a lens to allow you to see distance without wearing glasses. There are two types of lenses we use — monofocal and multifocal. The monofocal lens gives you good focus on a fixed distance range. You may still need to wear reading glasses to see up close. The multifocal lens, however, allows you to see from various distances. They do not work as well as your natural lens when you were younger, but you will become less reliant on wearing glasses for most situations.
Is surgery the only treatment option available for cataracts?
There is research on treatments that could reverse the effects of cataracts, but it is in the early stages. Cataract surgery has worked so well for us that we feel confident that it is the best option. Some patients say they see better now after the surgery than they ever saw in their 20s. Colors will appear more vibrant after surgery because the cataract tends to dull colors.
Is LASIK surgery the same as cataract surgery?
No. Patients undergoing LASIK surgery are typically in a younger age population than patients that undergo cataract surgery. With LASIK, we shave the cornea or front window of your eye. This particular method is helpful for nearsighted patients. LASIK helps reshape the cornea allowing you to see well into the distance without having to wear glasses.
Our team of ophthalmologists and optometrists include cornea and glaucoma specialists, as well as retinal specialists. We treat a full-range of eye conditions in a similar setting as a private practice, with the added benefit of being affiliated with an academic health center. Our team of ophthalmologists is dedicated to providing high-quality and comprehensive care for every patient.
Visit UFHealthJax.org/ophthalmology or call 904-244-9390 for more information and to make an appointment.